Apple TV 4K Reviews: Expensive But With Cheaper 4K Movies, Some Limitations Like 1080p YouTube
Apple TV 4K reviews are out, providing us with first impressions of one of the most expensive streaming media players on the market.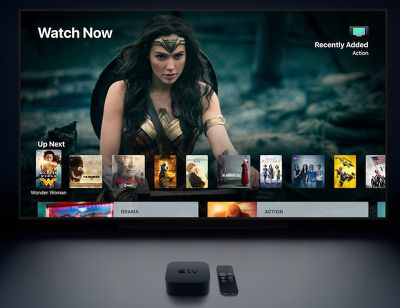 The Verge's editor-in-chief Nilay Patel said the Apple TV 4K is "by far the closest thing to being a fully realized vision for the future of TV that exists," but for now it has some limitations that hold it back.
Notably, the Apple TV 4K doesn't have Dolby Atmos sound and the YouTube app can only play videos in 1080p quality.
But the new Apple TV doesn't support Atmos. And it doesn't support YouTube in 4K HDR. And it doesn't have Disney or Marvel movies in 4K HDR. And it makes some 1080p content look less than great. […]

Apple doesn't support YouTube's VP9 video format, which means YouTube on the Apple TV 4K doesn't support 4K HDR playback. Apple doesn't have any timeline as to when or if that might happen; it's a problem that affects Safari on the Mac and iOS devices as well.
Apple told Patel that the lack of Dolby Atmos sound isn't a hardware limitation, and said support is on the roadmap.
The new Apple TV automatically upscales all SDR video to either HDR or Dolby Vision, depending on which format your TV supports, but Patel and some other reviewers said the end result doesn't always look great.
…Apple's HDR video processing is hit or miss. It was great when I watched HD content from iTunes, but it fell down in other apps. I watched The Dark Knight in HD on HBO Go with our video team, and the Apple TV 4K HDR processing blew out all the contrast in the image, sharpened everything to hell, and turned the film grain into noise.
Most reviews pointed out that the Apple TV 4K, priced from $179, is considerably more expensive than its competitors. Google's Chromecast Ultra is $69, Amazon's Fire TV starts at $90, and the Roku Premiere is $70.
However, the price difference could eventually be made up for with a cheaper selection of 4K movies available to purchase or rent in iTunes. Apple is also upgrading customers' existing iTunes libraries of HD videos to 4K at no cost.
Engadget's Devindra Hardawar:
You'll find Apple's first batch of 4K HDR films in their own section on the iTunes store. So far, the selection includes some major new releases like Wonder Woman, Baby Driver and Alien Covenant. Notably, they're mostly selling for $20, with a few older titles going for $15. Walmart-owned Vudu, which has been selling and renting 4K films for years, currently has those titles for $30. Even the rental prices for 4K are lower on iTunes -- $5 versus $10 on Vudu. And, just as Apple promised, several films I previously purchased on iTunes -- Star Trek Beyond, The Lego Movie and Kingsman were automatically upgraded to 4K HDR.
CNET's David Katzmaier:
All HD and 4K titles on iTunes cost the same. On other services, 4K is typically more expensive. Take a new release like "Wonder Woman." On iTunes it costs $20 to buy and $6 to rent, regardless of whether you get the HD or 4K/Dolby Vision version. On Vudu and Google Play, the HD version costs the same but the 4K/HDR version costs $30 to buy and $10 to rent. It's a similar story with new-to-video movies "Kong: Skull Island," "Ghost in the Shell" and "Transformers: The Last Knight."
Bottom Lines
The Verge's Nilay Patel:
I am very confident Apple is going to figure this TV thing out. It's the only company that has the combination of power and care to actually do it. But the Apple TV 4K's unrealized potential just makes it obvious that the future of TV is still pretty far away, and it's simply too expensive to gamble on in the meantime.
CNET's David Katzmaier:
But let's say you're OK spending $179 to get a high-performance streamer. If you're an "Apple person" with a nice TV and a yen for improved image quality, the Apple TV 4K is definitely worth getting -- and if you already own the non-4K one and you have cash to spare, it's a good excuse to kick that box to a secondary room. The same goes for movie buffs who regularly rent or buy new releases in 4K, thanks to iTunes' price advantage and promise to upgrade to the 4K versions.
TechRadar's Garis Beavis:
If you're already in the Apple-sphere and want a streaming box, the Apple TV 4K makes the most sense. It's costly, yes, and there are cheaper options on the market if you just want to get high-quality images beamed into your eyeballs.

But if you also want the wider app ecosystem, and the ability to connect sensors and use it as a workout trainer, play games with kids or control your smart home, then the Apple TV 4K is an easy choice.
Pocket-lint's Stuart Miles:
The new Apple TV 4K is the movie fan's champion set-top box and the place to buy 4K movies without breaking the bank, with the knowledge that if you own other Apple devices that you'll be able to easily watch them on the go too.
More Reviews: Mashable, BuzzFeed News, iMore, Financial Post, TIME