Craig Federighi: Apple Has Considered Nightstand Mode for iPhone X
Apple software engineering chief Craig Federighi has revealed that Apple has considered a Nightstand mode for iPhone X.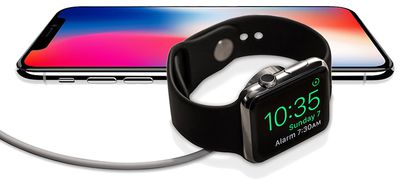 "This is definitely something we've considered," said Federighi, in response to an email from MacRumors reader Zain, who asked whether a Nightstand mode on the iPhone X would be possible. "This probably makes the most sense for customers who charge their phone in a dock that tilts up the phone."
However, Federighi noted that it's "not currently super common" for people to charge their iPhones that way.
Nightstand mode is an Apple Watch feature that allows the watch to be used as a nightstand clock and an alarm clock while it is laying on its side and charging. The watch displays the time in large text, along with the date, the battery's remaining charge, and an upcoming alarm if one is set.
When the Apple Watch is in Nightstand mode and isn't being used, the display turns off. To see the display again, users tap it, press the Digital Crown or the side button, or lightly nudge the Apple Watch. Sometimes, even nudging or tapping the nightstand or other surface the watch is sitting on works.
Since the iPhone X can't be positioned on its side by itself, it could be placed on a wireless charging pad with an angled stand, like this one from RAVPower. Coupled with new tap to wake functionality for the display, the idea of a Nightstand mode for iPhone X could make sense.
Apple could add Nightstand mode to iPhone X in a future update to iOS 11, but it's possible they've already dismissed the idea.
Federighi has been replying to several customer emails over the past week following Apple's iPhone X event at Steve Jobs Theater. MacRumors obtained full headers of this latest email, which can be traced back to Apple's headquarters.