In yet another leak sourced from the iOS 11 GM, developer Steve Troughton-Smith has uncovered a render of the new version of Apple's AirPods. Troughton-Smith noted that while a render of the "iPhone X" has not been discovered within the firmware (yet), the LTE Apple Watch and now the new AirPods each have renders in the golden master of iOS 11.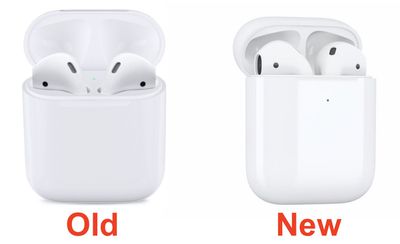 Unsurprisingly, the new AirPods look a lot like the old AirPods, with an all-white charging case and white buds. The case has the same clamshell design as the current model, but has one noticeable difference: the LED charging indicator "status light" has moved from the inside of the case to the outside.
When the AirPods are in the case, the LED shows the charge status of the pods, but if they are removed from the case then the LED shows the status of the case itself. Green indicates charged, while an amber glow means less than one full charge remains. In today's short video, the LED appears to be flashing white, which Apple's support website currently explains as an indication that the AirPods are ready to be set up with another device, suggesting some of the same LED patterns will be on the new AirPods.
Last night, the
first wave of iOS 11 GM leaks
included references to "AirPods 1,2," which could be the updated version of the wire-free headphones that have been shared today. Of course, with just one image and a two-second clip it's impossible to say what other new features might be coming to AirPods 2.0, or if Apple is ready to announce the new model as soon as
Tuesday's upcoming iPhone X event
.