The team behind the popular Pixelmator photo editing app for iOS and Mac today announced plans to unveil an all new pro-level app, Pixelmator Pro.
According to the Pixelmator Pro teaser site, the new software features a reimagined editing workflow, simplified editing tools, and intelligent image editing features powered by machine learning.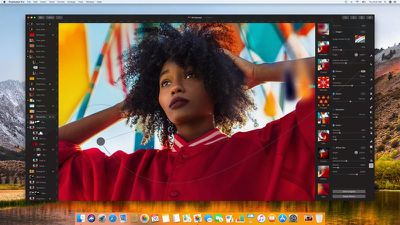 Pixelmator Pro is a powerful, beautiful, and easy to use image editor. Featuring an elegant and streamlined single-window interface, it puts all the focus on the images you edit, rather than what's around them. And with a design that is totally and completely Mac, it feels instantly familiar from the moment you first open the app. So image editing becomes simpler and more enjoyable than ever.
Pixelmator Pro takes advantage of the new Core ML framework built into macOS High Sierra to provide features like automatic layer naming based on layer content, automatic horizon detection, an improved repair tool for removing objects from photos effortlessly, and a quick selection tool that's better than ever.
The interface includes tools designed to make it easy to resize and rearrange layers, with a nondestructive Arrange Tool, smart spacing guides, and advanced alignment tools for aligning several objects with a click, plus there's a new painting engine powered by Metal 2 and dynamic paint blending technology.
Nondestructive color adjustment tools let you edit the colors in photos, there are a selection of effects that can be added to each layer and combined in Recipes, and there are shape tools, drawing tools, layer styles, and more. All in all, Pixelmator Pro includes more than 40 tools to work with.
Pixelmator Pro will be available sometime this fall. Prospective customers can sign up to get an email when the software launches on the Pixelmator Pro website.