Hundreds of chief executive officers, chief operating officers, chairmen, presidents, and other business leaders have added their signatures to an open letter asking President Trump to preserve the Deferred Action for Childhood Arrivals (DACA) program.
The program protects young adults brought illegally into the U.S. -- called "Dreamers" -- and grants them the "basic opportunity to work and study without the threat of deportation," through the opportunity of gaining legal work permits (via Recode).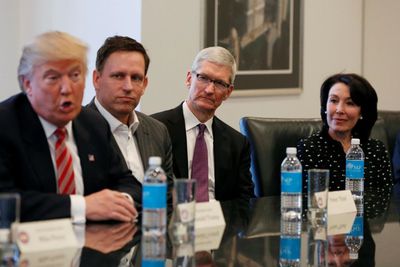 Signatories include Apple CEO Tim Cook, Microsoft CEO Satya Nadella, Netflix CEO Reed Hastings, Facebook CEO Mark Zuckerberg, Google CEO Sundar Pichai, Emerson Collective President Laurene Powell Jobs, and many more.
Trump is expected to announce a policy change today in regards to DACA, where it's believed that under the new policy the government will cease granting work permits to new Dreamers entering the U.S. Current Dreamers will reportedly be able to stay in the country until their permits run out, but would then find themselves unable to renew their work authorizations.
That would allow the nearly 800,000 individuals currently protected under DACA to remain in the U.S. for around two years, but the new letter implores Trump and the U.S. government to preserve DACA entirely.

Unless we act now to preserve the DACA program, all 780,000 hardworking young people will lose their ability to work legally in this country, and every one of them will be at immediate risk of deportation. Our economy would lose $460.3 billion from the national GDP and $24.6 billion in Social Security and Medicare tax contributions.
Dreamers are vital to the future of our companies and our economy. With them, we grow and create jobs. They are part of why we will continue to have a global competitive advantage.
Immigration and work-visa programs have been a hot topic between technology companies and the new Trump administration throughout 2017. The new letter ends with a call on Congress to pass legislation that "provides these young people raised in our country the permanent solution they deserve." You can read the full letter right here.
Note: Due to the political nature of the discussion regarding this topic, the discussion thread is located in our Politics, Religion, Social Issues forum. All forum members and site visitors are welcome to read and follow the thread, but posting is limited to forum members with at least 100 posts.