After previously giving four Microsoft Surface devices a purchase "recommendation" status, Consumer Reports today has pulled that status from the Microsoft products. The publication said that because of "poor predicted reliability" in comparison with rival brands, it can no longer recommend any Surface laptops or tablets to consumers.
The decision specifically targets four Microsoft Surface devices, including the Surface Book (128GB and 512GB versions) and the Surface Laptop (128GB and 256GB versions). Although only four devices are losing their previously designated "recommended" status, Consumer Reports pointed out that its inability to recommend Microsoft Surface products extends across the company's laptop and tablet devices, including the Surface Pro.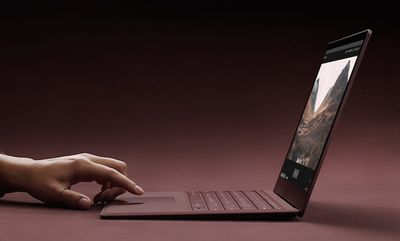 As usual, Consumer Reports based its decision on a survey conducted by its subscribers and the devices they own and use each day, this time focusing on over 90,000 tablets and laptops from multiple brands purchased between 2014 and early 2017. The study found that an estimated 25 percent of Microsoft tablets and laptops will "present their owners with problems" as soon as the end of the second year of ownership.
In its findings, the publication said the differences between the breakage rates of Microsoft devices and other brands were "statistically significant."

Microsoft's estimated breakage rate for its laptops and tablets was higher than most other brands'. The differences were statistically significant, which is why Microsoft doesn't meet CR's standards for recommended products. The surveys are conducted annually. Microsoft defended the reliability of its laptops and tablets.
Originally, multiple Microsoft Surface products performed well in Consumer Reports' lab testing, but as time has passed and as more data has been collected a reliability issue has come into question. Survey respondents mentioned device startup problems, unexpected freezes or shut downs, and unresponsive touch screens, all occurring well after the devices were purchased.
Microsoft gave the following statement in an email sent to Consumer Reports regarding the new findings:

"Microsoft's real-world return and support rates for past models differ significantly from Consumer Reports' breakage predictability," Microsoft said in an emailed statement. "We don't believe these findings accurately reflect Surface owners' true experiences or capture the performance and reliability improvements made with every Surface generation."
Late last year, Apple was also denied a purchase recommendation from Consumer Reports for its 2016 MacBook Pro, because battery life "varied dramatically" from one trial to another. After working together to find the source of the issue at hand -- which Apple discovered to be a bug in a hidden Safari setting -- Consumer Reports reversed its decision and gave the new MacBook Pro devices a recommended purchase status.