Apple's Stock Price Rises Above $160 Mark to Set New All-Time High
Apple shares are currently trading for between $161 and $162, eclipsing the $160 mark for the first time ever and setting a new all-time intraday high. The nearly 2 percent rise in Apple's stock price gives the company a market valuation of around $835 billion on its path to becoming a trillion dollar company.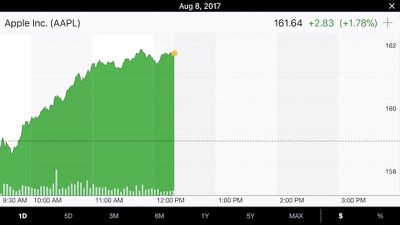 Apple's previous all-time high in intraday trading was $159.75, set after its third quarter earnings results beat expectations. Apple's record close is $157.14, which could be topped today after less than one week. Conversely, Apple's 52-week low is $102.53, set September 12, 2016, five days after its iPhone 7 event.
With focus shifting to the so-called iPhone 8 upgrade supercycle expected later this year, AAPL price targets range between $140 and $208.