TSA Implementing New Screening Procedures for All Electronics 'Larger Than a Cell Phone'
The United States Transportation Security Administration today announced stronger screening procedures for carry-on electronics, and will require all devices larger than a cell phone to be placed in bins for X-ray screening when going through standard screening lanes.
The TSA already requires laptops to be removed from carry-on bags and placed in a separate bin with nothing above or below, and it appears this will now expand to devices like iPads and portable gaming consoles.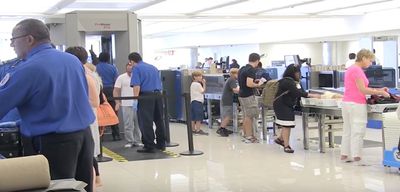 According to the TSA, extensive testing and successful pilot programs have been going on at 10 airports, which has led the administration to expand the measure to all U.S. airports "during the weeks and months ahead."
"Whether you're flying to, from, or within the United States, TSA is committed to raising the baseline for aviation security by strengthening the overall security of our commercial aviation network to keep flying as a safe option for everyone," said TSA Acting Administrator Huban A. Gowadia.

"It is critical for TSA to constantly enhance and adjust security screening procedures to stay ahead of evolving threats and keep passengers safe. By separating personal electronic items such as laptops, tablets, e-readers and handheld game consoles for screening, TSA officers can more closely focus on resolving alarms and stopping terror threats," said Gowadia.
The TSA has found ways to "improve screening measures" by using "quicker and more targeted measures to clear the bags," but requiring more bins is bound to slow down screening procedures.
The new rules are already in place in the following airports: Boise (BOI), Colorado Springs (COS), Detroit Metropolitan (DTW), Fort Lauderdale-Hollywood International (FLL), Logan International (BOS), Los Angeles International (LAX), Lubbock Preston Smith International (LBB), Luis Muñoz Marín International (SJU), McCarran International (LAS) and Phoenix Sky Harbor International (PHX).
There's one way to get around the rules -- a TSA Pre membership. Customers who are enrolled in TSA Pre and using TSA Pre lanes will not need to remove their laptops or other electronic devices.