DreamWorks Founder Jeffrey Katzenberg Met With Apple About His Mobile-Focused TV Network
Former DreamWorks Animation CEO and founder Jeffrey Katzenberg is working on a new mobile-focused TV service, tentatively named New TV, and has met with Apple executives to discuss a possible investment, reports Variety and CNBC.
Katzenberg was in attendance at this year's Allen & Co. media conference in Sun Valley, Idaho, along with dozens of other tech and media moguls, including Apple CEO Tim Cook. According to Variety, he was aiming to coax one of several tech companies into a $2B investment in his new project. Katzenberg was seen meeting with Apple CEO Tim Cook and Eddy Cue at the event, and CNBC says he has previously held meetings with Apple, Google, AT&T, Verizon, T-Mobile, Snapchat, and Spotify.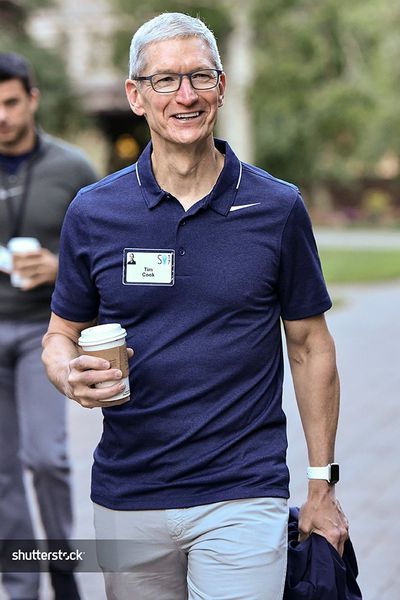 Apple CEO Tim Cook at the Sun Valley event last week. Image via

Rob Latour

, Shutterstock


Given the sheer number of investors Katzenberg is courting, it's not yet clear who he will partner with nor if Apple is interested, but New TV is a unique proposal. Katzenberg wants to create a short-form video series that's produced with primetime TV budgets to target 18 to 34-year-olds.
For example, imagine a drama akin to "Empire" or "Scandal" but shrunk to 10-minute episodes made for mobile consumption. Or a five-minute talk show, or a two-minute newscast -- all with high-profile talent attached.
In addition to seeking a distribution partner, Katzenberg is also pursuing potential content partners, with CBS and Disney CEO Bob Iger considering producing shows for the service. "The explosion of short-form video is obvious to all of us, but a lot of what we've seen is the production of amateurs -- user-generated content," Iger told Variety.
Katzenberg's goal is not to shrink longer-form media into a shorter format, but to create "new and different" programming that's native to mobile devices. No episode will last longer than 10 minutes, and there will be no ad breaks, with monetization coming via title sponsorships and brand integrations.
New TV will be shaped by whichever partner joins the project, says Katzenberg. It could work as a subscription service offered by a single video provider for a monthly fee, or it could be entirely free and integrated into an existing brand.
Apple has been aggressively pursuing original content in recent months, but in a more traditional format with standard episode lengths. Planet of the Apps, the company's first original show, launched in June, and its second show, Carpool Karaoke: The Series is set to be released on August 8.