Apple Has Finished Moving and Precisely Reassembling a Historic Barn At Its New Headquarters
Matthew Roberts has uploaded his latest 4K drone tour of Apple Park, the company's new headquarters in Cupertino, California.
A limited number of Apple employees began moving into the new headquarters in April, but the video shows that construction is still well underway. Among the highlights are a closer look at the main circular building, Steve Jobs Theater, the visitor center across the street, and the overall landscaping.
Roberts also flew his drone over the historic Glendenning Barn, which Apple has now completely reassembled after carefully taking it down and pledging to move it to a new location due to construction of Apple Park.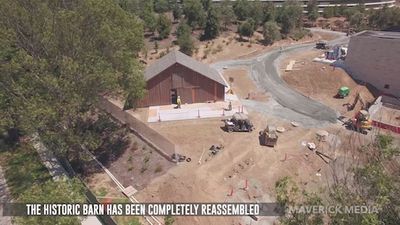 Glendenning Barn, a historic landmark in Cupertino, has been situated on Apple Park's property since the early twentieth century. After taking over the site of HP's previous campus, Apple reportedly dismantled the redwood barn piece by piece, including every plank, nail, and crossbeam, and made careful notes on its construction.
The drone video reveals that Apple has successfully recreated the barn, although a few of the redwood planks appear to be brightly colored, indicating they might not be original. Apple reportedly stockpiled redwood salvaged from an old grove in case any damaged planks needed to be replaced.
When finished, Apple Park will be surrounded by some 9,000 trees, with a large pond, walking trails, benches, and a fitness center for employees.