Journaling Platform 'Day One' Transitions to a Subscription Service
Popular journaling app Day One announced on Wednesday that it is transitioning its platform to a subscription-based service because it offers a more sustainable business model.
The Day One Premium service costs $50 per year and allows users to create unlimited journals, with the promise of additional forthcoming features like Audio Entries, Writing Prompts, and Guided Journaling, as well as a 25 percent discount on book orders.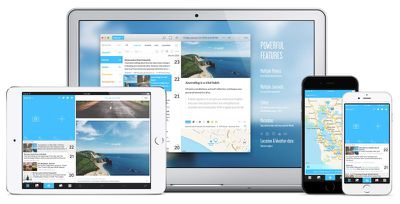 Subscription-based apps tend to divide the user community, but adoption of the model has increased over recent months. Apple incentivized developers to sell their apps for a recurring fee instead of a one-time cost when it made changes to its App Store subscription policies last year. Usually, Apple takes 30 percent of app revenue, but developers who are able to maintain a subscription with a customer longer than a year now see Apple's cut drop down to 15 percent.
In a FAQ posted to its website, the Day One team gave the following reason for its decision to switch to a subscription-based service:

In short, Day One Premium provides the steady, reliable income needed to maintain and grow the Day One platform. It pays for customer support, QA, maintenance, bug-fixes, and development of new features. Recurring revenue from this subscription ensures the Day One Team will continue to provide the level of quality and reliability you've come to expect from us. 
Users who download the Day One app after June 29, 2017, will have a Basic account, which are limited to one photo per entry, one journal, no cloud services, and no access to other Premium features.
Users who paid for Day One last year who don't want to pay a subscription won't lose any features included in Day One 2.0 and all users will continue to receive maintenance and non-Premium updates, according to the company. Users can check their account type in-app by looking at their Account Status – if it says "Plus", then the user purchased Day One 2.0 (or later) before June 29, so they will retain all existing features.
The Day One Premium subscription is available via in-app purchase. Day One Premium is $49.99 per year, but new users are being offered an introductory discount of 30 percent off (so $34.99 per year), while existing users are being offered 50 percent off ($24.99 per year). 
The journaling platform received end-to-end encryption earlier this month. The company also said that Day One Web is currently in beta testing and is scheduled to be released later this year. Day One is now a free download on the iOS App Store and a free app on the Mac App Store.