Popular journaling app Day One received an update yesterday that introduces end-to-end encryption to its cloud server for the first time, as well as a handful of other improvements.
Rather than using iCloud, Day One synchronizes data between devices using its own servers, something that has opened it up to criticism in the past because of security concerns regarding private journal data.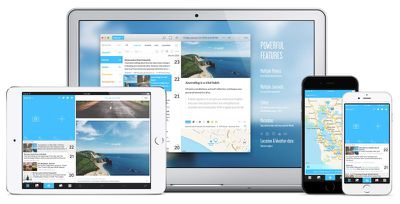 Version 2.2 of the app should allay those worries, since Day One now encrypts journal data from client to server via a user-generated private key. However it's important to note that the new end-to-end encryption feature is enabled on a journal-by-journal basis, so users need to go to Journals in Day One's Settings and select the journals they want to encrypt from there.
If users do not enable end-to-end encryption, Day One defaults to standard encryption, which encrypts journal data "at rest" on the company's servers. This less secure method requires that Day One staff hold the keys to decrypt journal data.
In addition to the enhanced security feature, the in-app camera has been improved to make it easier to take photos and quickly add multiple square-cropped shots to entries. Journal metadata now also includes the device name on which an entry was created.
Elsewhere, recent searches are now saved in a list for convenient re-use, while an app-wide state restoration system has been implemented so that users can pick up where they left off in the event of a crash or a force quit. The update also includes several fixes that should improve the user experience.
End-to-end encryption is included in the 2.2 update for both iOS and Mac. Day One is a $4.99 app on the iOS App Store and costs $39.99 on the Mac App Store.