AR/VR Headset Shipments Forecast to Hit 100 Million Units By 2021, Buoyed By Apple, Microsoft, and Others
Earlier this month at the Worldwide Developers Conference, Apple revealed its first big push into the augmented reality and virtual reality spaces, with a new ARKit developer framework and high-performance iMacs with native support for VR content creation.
On Monday, research firm IDC published new data forecasting significant growth in both markets, with dedicated AR and VR headset adoption expected to increase from just under 10 million units last year to 100 million units in 2021.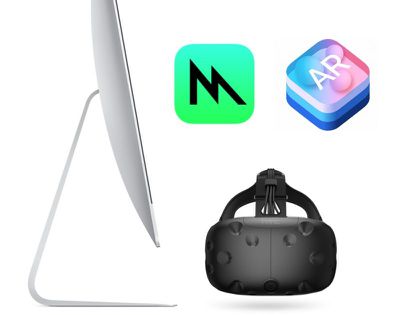 VR headsets account for much of the device volume so far, with VR headsets powered by a smartphone proving the most popular, according to IDC. The second half of 2016 also saw an increase in volume of Sony PlayStation VR, HTC Vive, and Facebook's Oculus Rift.

"The next six to 18 months will further stimulate the VR market as PC vendors, along with Microsoft, introduce tethered headsets and high-end standalone VR headsets also enter the market," said Jitesh Ubrani senior research analyst for IDC Mobile Device Trackers. "With lower hardware requirements on the PC and lower prices on headsets, VR will be more accessible than ever before. And the introduction of additional motion tracking and hand tracking will help further blur the line between digital and physical reality."
Although IDC believes VR headsets will continue to dominate the market in terms of volume for the foreseeable future, the firm believes AR will have a much bigger impact on the industry as a whole, in part thanks to Apple's recent entry onto the scene.

In terms of dedicated devices, AR continues to sit slightly in the background of VR. The reason for this is not that AR is less important, but rather it is harder to achieve. IDC believes VR headsets will continue to lead in terms of volume throughout the forecast, but maintains that AR in general will have a much bigger impact overall on the industry. Consumers are very likely to have their first AR experience via a mobile phone or tablet rather than a dedicated headset, and Apple's recent introduction of ARKit further supports this.


IDC believes AR headsets will become increasingly popular in markets such as healthcare, manufacturing, field service workers, and design, with commercial shipments to account for just over 80 percent of all AR headsets shipped in the next 5 years. "We believe that many industrial jobs will fundamentally change because of AR in the next 5-years," said Ryan Reith, IDC program vice president. "These are much more opportunistic markets for dedicated AR headsets than the consumer market."
Mobile app developers have been sharing early creations using Apple's new ARKit, suggesting huge enthusiasm for the possibilities for AR on iOS devices. As for VR, Apple's enthusiasm was clear during its WWDC keynote, with the company showing off the power of its new iMacs through a live demo of VR content creation using a HTC Vive, made possible via a new Metal 2 developer kit that has provisions for external GPUs and VR headsets.