Encrypted email provider ProtonMail today launched its own VPN service called ProtonVPN, which includes a free user tier in its pricing plan.
The Swiss-based company said it had been testing its VPN service for four months with the help of over 10,000 members of the ProtonMail community, and the group was ready to make ProtonVPN available to everyone starting Tuesday.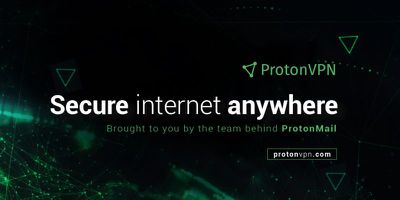 The Proton group said they were motivated to create ProtonVPN to combat increased threats to online freedom, such as the recent repeal of Obama-era rules designed to protect consumer internet browsing history, calls by British Prime Minister Theresa May for increased online surveillance, and the attempts by the U.S. FCC to dismantle net neutrality.

"In the past year, we have seen more and more challenges against Internet freedom," said ProtonMail Co-Founder Dr. Andy Yen, "now more than ever, we need robust tools for defending privacy, security, and freedom online.

"The best way to ensure that encryption and privacy rights are not encroached upon is to get the tools into the hands of the public as soon as possible and widely distributing them," said Yen. "This is why, as with ProtonMail, we're committed to making a free version of ProtonVPN available to the world."
The group says it has worked to make the best possible VPN service by addressing many of the common pitfalls with existing VPNs. Features therefore include a Secure Core architecture that routes traffic through multiple encrypted tunnels in multiple countries to better defend against network based attacks, a no logs policy backed by Swiss law, as well as seamless integration with the Tor anonymity network. Headquartered in Switzerland, the VPN is also outside of E.U. and U.S. jurisdiction and is not a member of the fourteen eyes surveillance network.
The free tier includes servers in three countries and usage on one device, but bandwidth speeds cannot be guaranteed. The Basic tier costs $4 a month (billed as $48 a year) and includes access to all 112 ProtonVPN servers across 14 countries, high speed bandwidth, and usage on up to two devices, while the Plus tier ($8 per month/$96 per year) offers the highest bandwidth, connection on up to 5 devices, Tor servers, and access to Secure Core data networks hosted in Switzerland, Iceland, and Sweden. The Highest tier ($24 a month/$288 a year) includes a ProtonMail Visionary account.
ProtonMail began crowdfunding in May 2014 and launched in March 2016, led by a group of scientists from CERN and MIT who aimed to deliver an easy-to-use end-to-end encrypted email service with freely available open source code. Earlier this year, the team launched a Tor-based site to make ProtonMail available to users in regions under the oppression of strict state online censorship.
Note: Due to the political nature of the discussion regarding this topic, the discussion thread is located in our Politics, Religion, Social Issues forum. All forum members and site visitors are welcome to read and follow the thread, but posting is limited to forum members with at least 100 posts.