Apple CEO Tim Cook and Amazon CEO Jeff Bezos are among a group of technology leaders meeting with President Donald Trump at the White House today, with plans to discuss how the government can begin cutting waste and improving services.
The Trump administration believes there is an "economic opportunity" to save as much as $1 trillion over the next ten years, and is seeking the advice of a group of tech CEOs on the best way to reduce government spending through technology (via Reuters).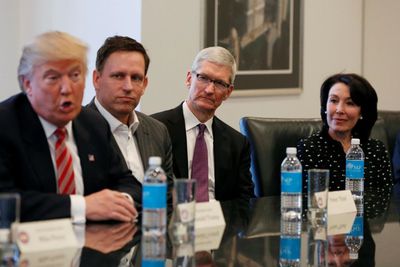 Methods looked at by the Trump administration are said to include cutting government information technology costs, reducing government costs through improved IT services, leveraging government buying power, and reducing fraud across government agencies.
President Donald Trump will meet with the chief executives of technology companies including Apple Inc and Amazon.com Inc on Monday as the White House looks to the private sector for help in cutting government waste and improving services.

White House officials said on a conference call on Friday that the administration believed there was an "economic opportunity" to save up to $1 trillion over 10 years by significantly cutting government information technology costs, reducing government costs through improved IT, leveraging government buying power and cutting fraud across government agencies.

The meeting with nearly 20 chief executives comes as the White House pushes to shrink government, cut federal employees and eliminate regulations. Many business executives are eager to work with the new administration as they face numerous regulatory and other policy issues.
Other companies attending the meeting include Alphabet, Microsoft, MasterCard, Intel, Qualcomm, Oracle, Adobe, and more. The meeting, which was announced earlier this month, follows a few other efforts by the Trump administration in modernizing the government with the help of CEOs from tech companies, including the "White House Office of American Innovation" and "American Technology Council."
Other topics up for discussion will be the United States work visa program, which has been a major point of contention as it directly affects tech companies trying to hire foreign workers, as well as cyber security. Before directly meeting with President Trump, it's said that the CEOs will discuss the issues on hand with Vice President Mike Pence, Treasury Secretary Steven Mnuchin, White House senior adviser Jared Kushner, and White House official Chris Liddell.
Many tech leaders decided to leave the White House's various advisory councils after Trump's decision to withdraw from the Paris climate accords. In a new statement, the White House said the decision had little effect on today's meeting and that it was full to capacity, resulting in some leaders being turned away. According to Axios, the meetings will run all the way to Thursday with topics further including drones and other IoT devices, which will end what the White House is calling "Technology Week."
For Apple's part, Tim Cook last week pointed out numerous ways he disagrees with Trump, but stated that his personal beliefs weren't enough to make him walk away from the Trump administration's councils, because he felt the need to keep the bigger picture in mind. "At the end of the day, I'm not a person who's going to walk away and say, "If you don't do what I want, I leave." ... But I care deeply about America. I want America to do well. America's more important than bloody politics from my point of view."
Update: Recode has shared some details about what was discussed at the meeting. Trump said there's a need for a "sweeping transformation of the federal government's technology," while Apple CEO Tim Cook, who also agreed with the need for modernization, said coding should be a requirement in schools.
Update 2: The White House has shared a video featuring some of the discussion.
Note: Due to the political nature of the discussion regarding this topic, the discussion thread is located in our
Politics, Religion, Social Issues
forum. All forum members and site visitors are welcome to read and follow the thread, but posting is limited to forum members with at least 100 posts.