Charitybuzz Auctions Lunch With Eddy Cue at Apple's New Headquarters
Charitybuzz today launched an auction in which the winning bidder will have lunch with Apple's services chief Eddy Cue at the company's newly constructed Apple Park headquarters in Cupertino, California.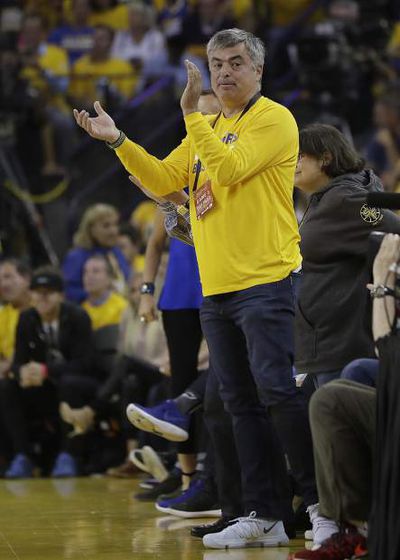 AP Photo/Marcio Jose Sanchez
Here's your chance to have lunch with Eddy Cue at the stunning new 175-acre Apple Headquarters in Cupertino, CA, where you will learn more about Apple's industry-leading content stores and online services. This is a rare opportunity to see "Apple Park" and engage in a one-on-one, in-depth conversation with one of the most innovative business minds of our generation.
The auction has an estimated value of $50,000. Bids can be placed between now and June 28 at 12:00 p.m. Pacific Time, in support of the National Association of Basketball Coaches Foundation in Kansas City, Missouri.
The National Association of Basketball Coaches Foundation is a non-profit organization that aims to bring attention to the positive aspects of the sport of basketball and the role coaches play in the academic and athletic lives of today's student-athletes. Cue is a longtime basketball and Golden State Warriors fan.
The private meet and greet will be scheduled at a mutually agreed upon date by June 30, 2018. The winning bidder must be at least 18 or older. The cost of the meal and gratuity is included, but travel and accommodations are not. The experience cannot be resold, re-auctioned, or transferred.
The lunch does not include a formal tour inside Apple Park facilities, and photography is not permitted, according to Charitybuzz.
Cue, who is officially Apple's senior vice president of Internet Software and Services, currently oversees the iTunes Store, Apple Music, Apple Pay, Siri, Apple Maps, iCloud, and Apple's iWork and iLife suites of productivity apps.
Apple executives have participated in several Charitybuzz auctions over the years, with CEO Tim Cook most recently raising over $680,000 for the Robert F. Kennedy Center for Justice and Human Rights.