Apple's Stock Down 8% Since Reaching All-Time High Last Month
Apple shares are currently trading for around $143 after Monday's opening bell, around 3.5 percent lower than Friday's closing price of $148.98.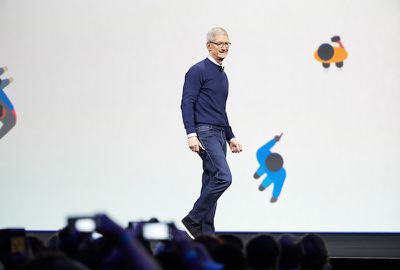 Apple CEO Tim Cook at the company's Worldwide Developers Conference last week
Apple's stock has dropped around 8 percent since reaching an all-time high of $156.10 on May 12, amid a wider downturn in the stock market. Technology stocks have been hit particularly hard, as some investment firms fear that stocks like Facebook, Amazon, Netflix, and Alphabet in particular rose too quickly.
Japanese bank Mizuho downgraded Apple to a "hold" rating today, as analyst Abhey Lamba believes enthusiasm around the company's upcoming product cycle is "fully captured" at current levels, with limited upside to estimates from here on out. The bank lowered its AAPL price target to $150, down from $160.
Andy Hargreaves, equity research analyst at Pacific Crest Securities, also downgraded Apple's stock last week. In a research note distributed to clients, he said excitement surrounding the so-called "iPhone 8" appeared to be "priced in," compounded by risks such as the potential for gross margin pressure.
Wall Street analyst Brian White of Drexel Hamilton believes otherwise, calling the recent dip in Apple's stock price another buying opportunity.
"In our view, Friday's sell-off in Apple represents yet another buying opportunity as investors turn their focus to the iPhone 8 this fall, along with the company's raised capital distribution initiative, depressed valuation, and new innovations," said White, in a research note distributed to clients on Monday.
"We continue to believe Apple remains among the most underappreciated stocks in the world," he added.
White said Apple shouldn't be compared to the likes of Facebook, Amazon, Netflix, and Google, jointly called FANG, as the iPhone maker's stock has significantly underperformed against its rivals over the past five years.
"For example, the average 'FANG' stock is up 674 percent over the past five years compared to a 100 percent increase for Apple and a 84 percent rise for the S&P 500 Index," said White, in a note obtained by MacRumors. "Even Microsoft has outperformed Apple with a 175 percent increase during this time."
White said Apple has "demonstrated resilience" through its "unique ability" to develop hardware, software, and services that work seamlessly together, despite seemingly never-ending concerns that the iPhone maker will fall victim to the missteps of consumer electronic companies of the past.