Apple has posted a series of job listings for its first retail store in Taiwan. The company is looking to fill Genius, Expert, Manager, Store Leader, and Business Leader positions, among others, while applications for the Apple Store Leader Program are open ahead of a September 2016 start date.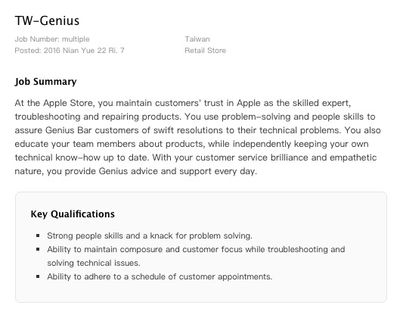 Apple confirmed to Reuters that it will open its first retail store in Taiwan, but it did not disclose a specific location. The company operates over 40 retail stores in the Greater China region, which encompasses Taiwan, including 41 in mainland China and five in Hong Kong. Many stores are located in Galaxy or MixC shopping malls.
The news comes just one day after Apple announced its first retail store in Brooklyn will open on Saturday, July 30 at 10:00 a.m. local time. Apple has eight other stores within New York City limits, including six in Manhattan, one in Queens, and one on Staten Island. Another store will open at the World Trade Center later this year.
Apple has aggressively expanded its retail footprint in the Greater China region, including China, Hong Kong, and Taiwan, over the past few years. The company recently achieved CEO Tim Cook's goal of reaching 40 stores in the region ahead of schedule, while in the U.S. it has focused on renovating existing stores with new designs.