Apple to Phase Out 32-Bit Mac Apps Starting in January 2018
Apple is already putting an end to 32-bit apps on iOS devices with iOS 11, and soon the company will make the same changes on its macOS operating system.
During its Platform State of the Union keynote at the Worldwide Developers Conference, Apple told developers that macOS High Sierra will be the "last macOS release to support 32-bit apps without compromises."


Starting in January of 2018, all new apps submitted to the Mac App Store must be 64-bit, and all apps and app updates submitted must be 64-bit by June 2018. With the next version of macOS after High Sierra, Apple will begin "aggressively" warning users about 32-bit apps before eventually phasing them out all together.
In iOS 11, 32-bit apps cannot be installed or launched. Attempting to open a non-supported 32-bit app gives a message notifying users that the app needs to be updated before it can run on iOS 11.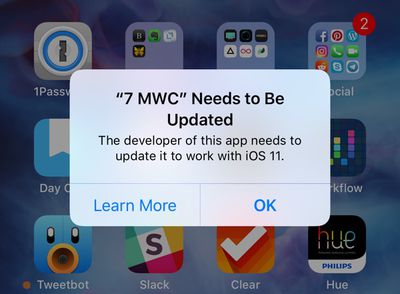 Prior to phasing out 32-bit apps on iOS 11, Apple gave both end users and developers several warnings, and the company says it will follow the same path for the macOS operating system.
(Thanks, Cameron!)