As we get closer to Apple's WWDC 2017 keynote, which is set to kick off today at 10 a.m. Pacific Time, several developers have taken to Twitter to share the swag they've received at the conference this year. The items include a Levi's denim jacket with a custom WWDC17 logo and a collection of Apple-themed enamel pins.
The Levi's trucker jacket comes in black, includes fits and sizes for both men and women, and has two interior pockets large enough to fit an iPhone 7 Plus.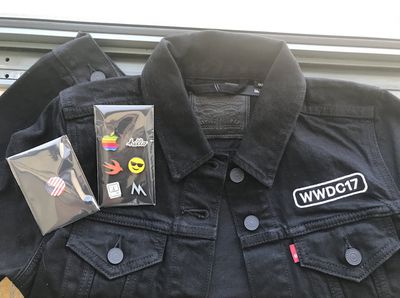 The pins handed out to WWDC attendees this year include a collection of six Apple designs, including the old rainbow-themed Apple logo, the "hello" Mac greeting, the
Swift
logo, an emoji with sunglasses, the original Macintosh, and the
Metal
logo.

A few developers have noted that the pin packs
include different designs
, with separate collections including an iMessage heart bubble, thumbs up emoji, Activity rings, and more. In addition, each developer has received personalized pins that
represent their home country
.
WWDC scholarship attendees at the conference are also taking away an Apple TV dev kit, as one 9to5Mac reader pointed out. Students and STEM organization members who won a scholarship got free tickets to WWDC, normally priced at $1,599, and received free lodging as well this year at the San Jose State University dorms, located approximately 15 minutes away from the venue when walking.
MacRumors will be providing live coverage of the WWDC keynote in a live blog on the MacRumors.com front page, as well as via the MacRumors Live Twitter account. Any reader interested in avoiding spoilers for this year's keynote can check out our spoiler-free video stream, which will be updated with a direct link to the presentation once it becomes available from Apple.