Apple Store Back Online, New iMacs, Mac Notebooks, and iPads Available for Purchase
Following today's keynote event that saw Apple introduce a whole host of new hardware including new iMacs, new Mac notebooks, and new iPads, the Apple online store has come back online and all of the new products are now available for purchase.
New 10.5 and 12.9 inch iPad Pro models are available, with prices that start at $649. The 10.5-inch model is a new design with slimmer bezels that allow for a larger display. Storage starts at 64GB and goes up to 512GB, and orders placed today will arrive next week.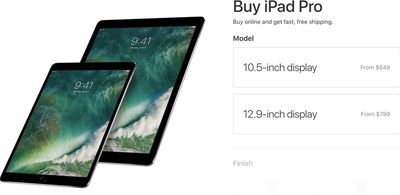 Updated MacBook and MacBook Pro models include 7th-generation Kaby Lake chips, improved graphics, and faster storage. MacBook Pro pricing starts at $1,299 for the 13-inch model and $2,399 for the 15-inch model, while MacBook pricing starts at $1,299.
Apple has also refreshed the MacBook Air with a new faster processor, and pricing remains the same at $999 for the entry-level 13-inch model. All new notebooks will ship out starting next week, but are available for order today.
Finally, there are new 21.5 and 27-inch iMac models available for purchase, with upgraded Kaby Lake processors, much-improved displays, faster storage options, and advanced GPUs. For the first time, there are dedicated graphics options for the 21.5-inch iMac, which has been limited to integrated graphics in the past.
Pricing on the iMac starts at $1,099 for a 21.5-inch version without a 4K display, while the 4K model starts at $1,299, and the 27-inch 5K model starts at $1,799. New iMacs deliver as soon as this week.
Later this year, in December, Apple plans to introduce a new iMac Pro that will start at $4,999.