New Nike Apple Watch Bands Now Available for Purchase [Updated]
Last week, Nike announced plans to release four new Nike+ Apple Watch bands in colors that match its line of Nike Air VaporMax Flyknit "Day to Night" shoes, and those watch bands are available for purchase as of today.


The new bands are available in four shades of pink and blue "inspired by the shade of the sky, from dawn to dusk," and each one matches a Flyknit shoe. Nike has offered Nike+ bands since the Nike+ Apple Watch debuted in 2016, but this is the first time the company has made an effort to introduce bands that match its shoes.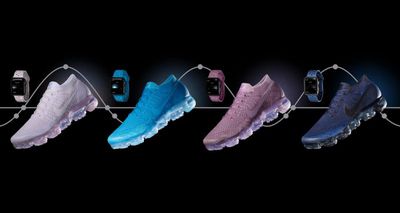 Nike's new Apple Watch bands are made of the same flexible fluoroelastomer material that's used for Apple's line of Sport bands, but Nike bands add perforations for ventilation purposes.


The bands are available from the Nike website for $49 each, and starting today, select Nike stores will also begin carrying them. Apple plans to start offering the new Nike+ bands in stores, from authorized retailers, and in specialty department stores in "early June."
Nike's matching Flyknit running shoes are also available starting today for $190.
Update: Many of the new Nike+ bands and Flyknit shoes have already sold out.