Nike Announces New Apple Watch Bands With Matching Running Shoes
Nike today announced four new Apple Watch bands for Apple Watch Nike+ that will match the Nike Air VaporMax Flyknit "Day to Night" collection of shoes. The company said that the new colors of bands and shoes are "inspired by a shade of the sky, from dawn to dusk," and mark the first time that Apple Watch owners can directly match their band choice to their Nike sneakers.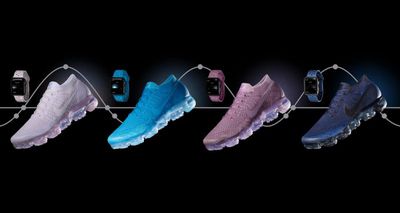 Similar to previous Nike+ Apple Watch bands, the new options are made of the same flexible fluoroelastomer material that Apple uses in its own Sport bands, but include a perforated design for ventilation and sweat management. The most recent Nike and Apple partnership was in the cream and black NikeLab band that launched in April, following the first Apple Watch Nike+ device that debuted last September.
Users will be able to purchase the new Nike Apple Watch sport bands for $49.00 each beginning on June 1 on Nike.com and in select Nike stores. The company said that the bands will be available on Apple.com, in Apple retail locations, authorized resellers, and specialty department stores from "early June." The running shoes will also go on sale on June 1, and will be priced at $190.00.