'iPhone 8' Renders Offer Direct Size Comparisons With iPhone 7 and Galaxy S8
Alleged "iPhone 8" leaks have been coming fast and steady over recent weeks, with various schematics and protective case designs suggesting Apple has finalized the radical redesign destined for its tenth anniversary smartphone.
Many of the leaks we've been tracking in the last few days in particular offer few if any details beyond what we've already heard about Apple's upcoming OLED iPhone, but a couple of renders are making the rounds online that may give readers a clearer idea of how the new handset might look alongside current smartphones on the market.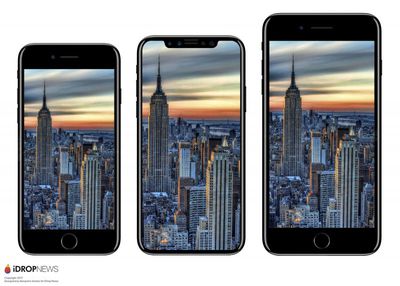 In the above renders, originally published by iDrop News, an "iPhone 8" with edge-to-edge display is shown set in between Apple's existing iPhone 7 and iPhone 7 Plus. The new handset is expected to be 144mm tall, 71mm wide, and 7.7mm thick, according to leaked design renderings and schematics. They compare to existing iPhone 7 dimensions of 138.3 x 67.1 x 7.1mm.
Another render, pictured below, shows the 5.8-inch OLED iPhone in between the Galaxy S8 and S8 Plus. Samsung's devices measure 148.9 x 68.1 x 8.0mm and 159.5 x 73.4 x 8.1mm, respectively. Taken together, the above numbers suggest Apple's redesigned handset will be slightly thicker than the 4.7-inch iPhone 7 but not as thick as the Galaxy S8.


The last major rumor about the so-called "iPhone 8" came last week, when it was reported that Apple suppliers TSMC confirmed Apple had successfully integrated Touch ID fingerprint recognition into the OLED display.
The new handset is expected to release in the fall alongside upgraded "S" cycle versions of Apple's existing line-up. Other features for the high-end phone could include a front-facing dual-lens camera with 3D sensing capabilities and some form of wireless charging.