Apple updated its website on Wednesday with U.S. job creation numbers from 2016, revealing that the company has generated a total of 2 million jobs across all 50 states.
Last year saw Apple spend more than $50 billion with 9,000 U.S. suppliers and manufacturers, and create around 90,000 supplier and manufacturer jobs, bringing the total number to 450,000 jobs, up from 361,000 in 2015. Meanwhile the number of people directly employed by Apple rose to 80,000, up from 76,000 in the previous year.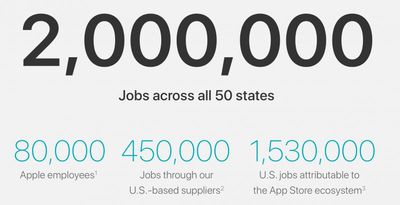 Across the U.S., 29 cities are home to at least 250 Apple employees, while 44 states have an Apple Store. Apple says it has seen a 28x increase in employment outside of California since 2000, with a 1,500 percent growth in U.S. employees as a whole since 1998.
Software-wise, Apple states that 1,530,000 U.S. jobs could be linked to the App Store ecosystem, an increase of 130,000 from 2015. U.S. developers were said to have earned $16 billion from sales since the App Store was launched in 2008.
The dedicated web page also provides a state-by-state breakdown of the above figures and highlights some of Apple's major U.S. investments, including its Cupertino headquarters, data centers in North Carolina, Oregon, and Reno, and campuses in Arizona and Texas.
The website changes come on the same day CEO Tim Cook announced that Apple is creating a new $1 billion fund for advanced manufacturing, in a further effort to promote U.S. job creation.