AT&T Customers With Grandfathered Unlimited iPad Data Plans Will See Throttling After 22GB of Usage
AT&T today sent out emails to customers who continue to have a grandfathered unlimited data plan for the iPad, informing them that its unlimited status is essentially being eliminated on May 24, 2017.
Going forward, customers with an unlimited tablet data plan may see their data usage throttled when using more than 22GB of data during a single bill period. According to AT&T, data may be slowed down during times of network congestion.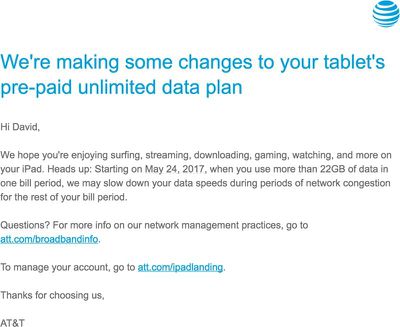 While that's in line with AT&T's policy for its newly announced unlimited data plans, it's a big change for iPad owners who are not used to having a data cap in place. Prior to the change, iPad owners with the grandfathered unlimited plan have not been subject to restrictions.
AT&T briefly offered unlimited iPad data plans after the original iPad was released in 2010, but phased them out just months later. Since then, customers who managed to purchase one of the plans have been able to hold onto them, making the unlimited plan highly coveted.
The plans required no contract and cost $29.99 per month, with customers able to transfer them to new iPads and even sell them to other iPad owners. With the change coming on May 24, the original unlimited iPad data plans will be much less attractive.
(Thanks, David!)