Mixtile Hub Smart Home Bridge Won't Support HomeKit After All
At CES 2017 earlier this year, Chinese company Focalcrest debuted the Mixtile Hub, a supposedly MFi-certified smart home bridge that promised to bring HomeKit connectivity to various connected home products that would not otherwise be able to interface with Apple's smart home platform.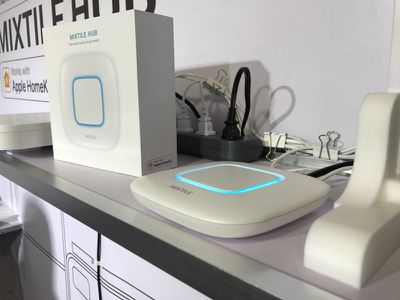 Specifically, Focalcrest said the Mixtile Hub would be able to interface with Z-Wave and ZigBee devices and sensors, as well as connect to various smart home devices through Bluetooth and Wi-Fi.
As it turns out, however, the Mixtile Hub won't support HomeKit after all. At some point between CES and now, Focalcrest removed any mention of HomeKit from its press release—see the original for comparison—and the company now plans to launch the Mixtile Hub with Amazon Alexa support only.
In a recent email to MacRumors forum member Macwick, shared with us, Focalcrest vaguely said it believes Apple "doesn't permit bridge products to compatible with different brand devices," which isn't entirely true.
In the past few months, we kept to contact Apple for approval the HomeKit related designs. But this stage really takes a bit long and till now we still don't get a positive reply from Apple.

From our communication with Apple, we feel that they don't permit bridge products to compatible with different brand devices upon some uncertain reasons, as you know, our Mixtile Hub is a bridge product too.
The Philips Hue bridge does support both HomeKit and ZigBee, but that's just for one product, whereas the Mixtile Hub would have essentially made any Z-Wave or ZigBee product compatible with HomeKit. It wouldn't be surprising if Apple refused to certify the Mixtile Hub due to security concerns.
While it's unsurprising that Apple isn't backing the Mixtile Hub, it's disappointing that Focalcrest so prominently advertised HomeKit support prior to receiving certification for the product. Focalcrest admitted that it's uncertain if its "redefined" Mixtile Hub will still be attractive to homeowners.