CES 2017: Mixtile Hub Promises to Expand HomeKit to ZigBee and Z-Wave Smart Home Devices
Focalcrest, a Chinese company focusing on intelligent hardware solutions, today debuted a new HomeKit hub that promises to bring HomeKit connectivity to various connected home products that would not otherwise be able to interface with Apple's smart home platform.
The Mixtile Hub, which is MFi certified by Apple, is designed to connect to ZigBee and Z-Wave products and interface with HomeKit, allowing them to be controlled in via Siri and with Apple's Home app.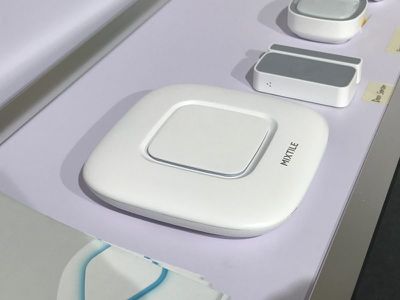 The hub plugs into a television set, which is used as a display to allow users to discover smart devices located in the home. From the television, the devices can be connected to the hub, and an accompanying smart phone app allows users to designate what a product does so that it can be used appropriately through HomeKit.


According to Focalcrest, it can interface with Z-Wave and ZigBee products, as well as connect to various smart home devices through Bluetooth and Wi-Fi. Focalcrest did not provide specific examples of the kinds of hardware the hub can work with, so there are some unknowns with the product at this point in time.
The Mixtile Hub supports wireless communication protocols such as ZigBee, Z-Wave (optional), Wi-Fi, and Bluetooth. It can also communicate with various other sensors (temperature and humidity sensors, optical sensors, door sensors) surveillance devices (monitors, alarms, intelligent locks) and smart home products (intelligent lamps, outlets and air conditioners), through ZigBee and Z-Wave.
Several existing hub-based HomeKit products work the same way as the Mixtile Hub, such as the Philips Hue. The Philips Hue base station is HomeKit enabled, while all bulbs connect to and receive commands from the base station using the ZigBee protocol.
ZigBee and Z-Wave are popular options for smart home products that don't support HomeKit. Many home security companies use Z-Wave, as do some major brands like Honeywell, GE, Schlage, D-Link, and First Alert. A wide range of connected home products use ZigBee, like the Logitech Harmony Remote, Cree lightbulbs, GE lightbulbs, and more.
Hardware wise, the hub is equipped with a quad-core processor, 1GB RAM, and 8GB of storage space. It has a built in 2,500mAh battery, dual microphones, an Ethernet port, an HDMI port, a micro-USB port, and a USB 2.0 port.


Focalcrest says the Mixtile Hub will be priced at approximately $150, and it will tentatively see a release sometime around March of 2017.