Tweetbot for Mac has been updated with support for a number of changes that Twitter has introduced in recent months.
The most notable change is that users can now send images within Direct Messages, in line with official Twitter platforms. Clicking on the new camera button to the left of the message field within a Direct Message brings up a Finder window for selecting images, which are displayed in-line within the conversation.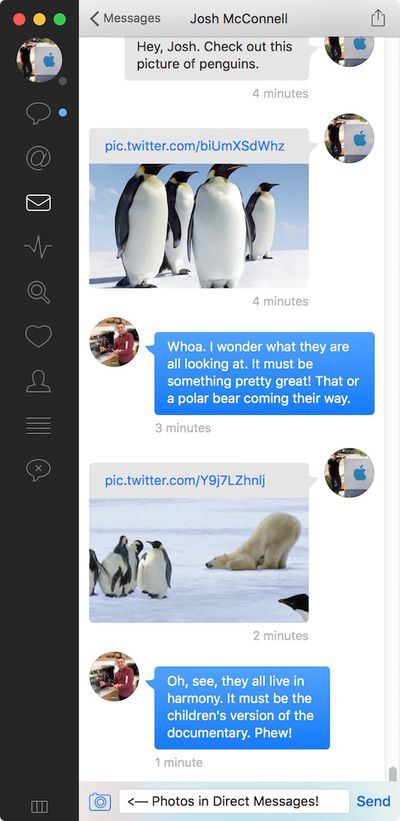 Meanwhile, when replying to a Tweet, the usernames of the people you are replying to no longer count against Twitter's 140-character limit. Tweetbot still provides the option to do a "classic" reply, where usernames are included within the Tweet, by holding down the Control key while clicking the Reply button.
The app's developer Tapbots has also fixed an issue where a fullscreen Tweetbot window may not have resized when a Mac's screen resolution changed, fixed a potential crasher when viewing collections for a user that had a large number of collections, and fixed an image-related issue in tweet detail view.
Tweetbot for Mac version 2.5 is a free update on the Mac App Store [Direct Link] for existing users. The app initially costs $9.99.