Apple Music Introduces 'Up Next' Feature to Promote New Artists
On its Apple Music Twitter account, Apple today announced a new "Up Next" feature for Apple Music, which is designed to promote "Music's Next Generation," highlighting a new artists each month.
For April, Apple is partnering with singer and rapper 6LACK for a range of projects to promote his latest album, FREE 6LACK.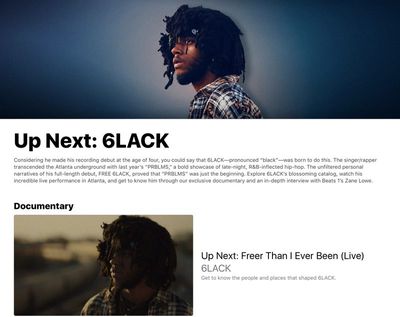 The new "Up Next" Apple Music section in iTunes features a documentary that delves into 6LACK's upbringing, the Free 6LACK album, a live performance, an interview with Zane Lowe, and several Apple Music playlists.
Both Beats 1 DJ Zane Lowe and 6LACK will also be on the Late Late Show with James Corden on April 20, presumably to talk about the new project and 6LACK's work.
Apple has done similar wide-ranging promotions for major album releases for well-known artists in the past, but its new Up Next feature gives the company a way to highlight and promote lesser-known artists in a major way.