Apple Celebrates Earth Day With New Apple Watch Activity Challenge
Ahead of Earth Day, Apple is debuting a new Activity Challenge for Apple Watch owners, which will become available in the Activity app on the iPhone when Thursday, April 20 rolls around.
Apple is challenging Apple Watch owners to complete a 30 minute outdoor exercise activity on Earth Day, which is Saturday, April 22. For finishing the challenge, Apple Watch owners will be rewarded with an exclusive Earth Day award and stickers that can be used in the Messages app.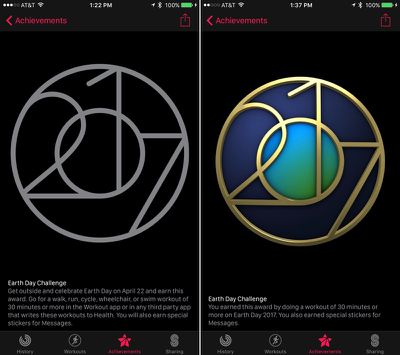 Get outside and celebrate Earth Day on April 22 and earn this award. Go for a walk, run, cycle, wheelchair, or swim workout of 30 minutes or more in the Workout app or in any third party app that writes these workouts to Health. You will also earn special stickers for Messages.
This is the third public Apple Watch challenge Apple has debuted since the Apple Watch launched in 2015. On Thanksgiving, Apple challenged Apple Watch owners to run 3.1 miles as part of a Thanksgiving Day Challenge, and on New Year's, Apple encouraged Apple Watch owners to "Ring In The New Year" by closing all three Activity rings each day for a week in January.

Earth Day Challenge stickers in Messages


In honor of Earth Day, Apple employees are also transitioning to green shirts starting on April 20, and Apple will decorate its retail stores around the world with special logos that feature a green leaf accent.