Apple is purchasing so many trees for its upcoming Apple Park campus that it's becoming challenging for other companies to source trees, according to a report from the San Francisco Chronicle.
"Buying trees is a surprisingly cutthroat business," reads the Chronicle in a piece about a rooftop City Park that's being built above the upcoming Transbay Transit Center in San Francisco. Adam Greenspan and Patrick Trollip, who are sourcing trees for that project, say Apple has made it hard to track down trees across California and Oregon.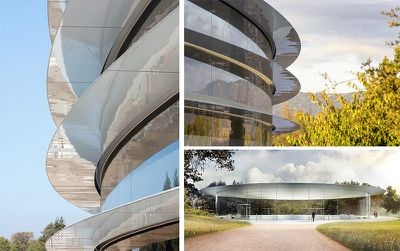 And it's been especially challenging to locate desirable specimens because Apple has been buying up 3,000 trees for its new Cupertino headquarters. When Greenspan and Trollip found a tree they fancied they would "tag it" with a locking yellow tag, so that nobody else -- like Apple -- could get it. Eventually all the tagged trees were moved to a nursery in Sunol, where the transbay project team leased 4 acres.
Apple Park, Apple's second campus with the famous spaceship-shaped main building, will be completely covered in greenery. Landscaping at the site started late last year, and Apple has said it will plant more than 9,000 native and drought-resistant trees, including fruit trees.
In a separate report on Apple Park, The Economist highlighted the parking situation at the campus. For the 14,000 workers that Apple plans to have on site, Apple has built nearly 11,000 parking spaces, many of them located in underground lots beneath the main building and in two garages at the south of the campus.
In total, Apple has built 325,000 square meters of parking, compared to 318,000 square meters of offices and research buildings. So much space has been dedicated to parking due to Cupertino city laws, which require a certain number of parking spaces for employees.
Employees will begin moving into Apple Park in April, but Apple has said it will take more than six months to transition thousands of employees to the site. Smaller building construction and landscaping has not been finished and will continue into the summer, even after the campus sees its grand opening.