Apple's new video editing app Clips, released on April 6, saw between 500,000 and 1 million downloads during its first four days of availability, according to estimates from app analytics firm App Annie that were shared with TechCrunch.
Following its release, Clips climbed to the number 28 spot in the U.S. App Store, but it hasn't managed to attain a higher rank as of yet. In comparison, Apple's Music Memos app, which is aimed at a smaller number of users, reached number 29 during its first day of availability.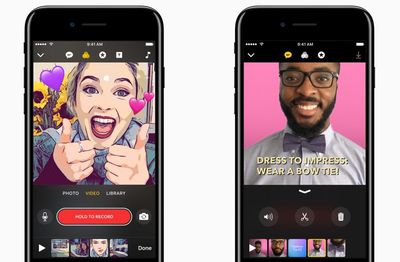 Since its release, Clips' App Store ranking has declined. On Thursday, it was number 28, but on Saturday, it dropped to 39 and today it's ranked as the number 53 app. Clips may grow in popularity as it's discovered by iOS users. Apple is featuring it in the App Store and is listed in the "New Apps We Love" section.
"The average user is not yet aware of it," notes Danielle Levitas, Senior Vice President, Research & Professional Services at App Annie. "They'll start to become more aware of it through that network effect as people share these clips in Facebook, in Instagram, in WeChat," she says. Clips does not have its own built in social network, so it will rely on these shares.
Clips, as the name suggests, lets users combine several video clips, images, and photos with voice-based titles, music, filters, and graphics to create enhanced videos that are up to an hour in length.
Videos created with Clips can be shared via the Messages app or shared on various social networks like Instagram and Facebook, but there's no built-in social networking capabilities that could allow the app to compete with apps like Snapchat.
Clips can be downloaded from the App Store for free. [Direct Link]