Apple's New Social Video Creation App 'Clips' Now Available for iPhone and iPad [Updated]
Apple today announced that its social video creation app "Clips," announced last month, will be available on the App Store for iPhone and iPad around 10:00 a.m. Pacific Time today, as reported by Engadget.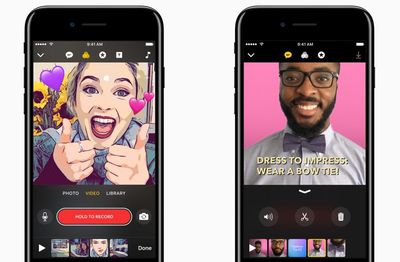 Clips lets users combine videos, images, and music into one seamless video that can then be shared through iMessage, Facebook, Instagram, YouTube, and elsewhere. Users can also create animated captions called "Live Titles" using only their voice, and apply effects such as comic book filters, speech bubbles, and shapes.
Here's a quick hands-on video from Scott Stein at CNET:
As noted by
The Verge,
clips have a familiar square format popularized by Instagram. Individual video clips up to 30 minutes in length can be combined to create up to an hour-long video shareable in 1080p HD.
Clips are created in a square format, and are added to a basic timeline at the bottom of the screen. You can add individual video clips up to 30 minutes long to this timeline; and the total run time of a finished Clips video can be as long as 60 minutes. It's also created and shared in 1080p HD, if your source video is HD. This is the kind of stuff that makes it much more of a video creation app than a Snapchat competitor.
Update: Clips is now available on the App Store [Direct Link] for both iPhone and iPad, but propagation issues may be temporarily causing the app to be listed as only available for iPad. Some users might have to try again later.