Apple Predicted to Build Its Own Power Management Chip for iPhones Within Two Years
Dialog Semiconductor shares plunged to their lowest price in over 16 years on Monday, after an industry analyst predicted Apple will drop the supplier and move to its own in-house power management chips for iPhones by 2019.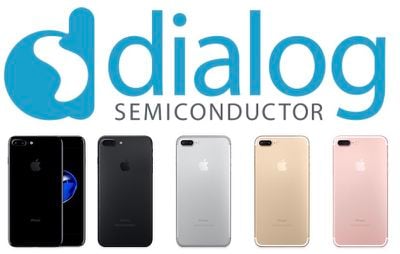 The prediction comes from analyst Karsten Iltgen at German investment bank Bankhaus Lampe, who said that Apple will at the very least cut back to some degree on Dialog's supply of power management chips for the iPhone, according to a research note obtained by Bloomberg.
"There is strong evidence that Apple is developing its own power-management integrated circuits and intends to replace the chip made by Dialog at least in part," Karsten Iltgen, analyst at Bankhaus Lampe, said in a research note published Tuesday. A shift to Apple developing its own chips in-house is unlikely in the short term, he said.

"We believe that Apple is setting up power-management design centers in Munich and California," said Iltgen. "We hear from the industry that about 80 engineers at Apple are already working on a PMIC with specific plans to employ it in the iPhone by as early as 2019."
According to Iltgen, Apple is setting up its own power management chip design centers in Munich and California, and up to 80 Apple engineers are said to already be working on its own PMIC (power management integrated circuit) component. However, he said Apple dropping Dialog "is unlikely in the short term."
Dialog's website says its integrated power management component results in up to 30% longer battery life:
Dialog replaces multiple discrete power management components with one highly integrated device, enabling our customers to produce lighter and thinner portable applications with higher power efficiency resulting in longer battery life.

These single chip solutions reduce energy usage and provide a simple, yet flexible, design at a lower cost. Typical usage tests show our Power Management Integrated Circuits (PMICs) are able to decrease the power consumption of a portable device by up to 30%.
The analyst noted that Apple has steadily hired engineers from the United Kingdom-based Dialog over the past year, from the chipmaker's pool of about 1,300 engineers, but a person familiar with the situation noted that "it isn't unusual" to see employees flowing between Apple and its supplier.
However, last week Apple announced that it was planning to stop using the graphics processing chips supplied by Imagination Technology in its iPhones within two years, and Bloomberg noted that, ahead of that decision, Apple had hired "several people" from Imagination to help craft its in-house technology.
If Apple does make the same decision with Dialog Semiconductor as it did with Imagination Technologies, the former company could see as much as three quarters of its business gone over the next few years, as it's believed that Dialog gets as much as 74 percent of its sales from Apple.
Some analysts don't believe that it will ever come to that and disagree with Iltgen's prediction, as Barclays analyst Andrew Gardiner recently mentioned in a research note that he does "not see [Dialog] remotely in a similar position" as Imagination. Dialog shares remained down around 16 percent on Tuesday.

Not everyone agrees that Dialog is at risk. "We do not see them remotely in a similar position," said Andrew Gardiner, an analyst at Barclays Plc, in a research note. "We acknowledge Apple's continued hiring of engineers, in power management and elsewhere, but an additional 80 engineers hired in this area pales in comparison to the over 1,300 engineers Dialog employed at the end of last year."
Last year Dialog entered the news when a Fast Company report mentioned the supplier's $10 million investment in wireless technology company Energous, adding to recent rumors that Apple and its suppliers were gearing up to implement some form of wireless charging into a future line of iPhones.
Energous has said that its first truly wireless charging technology will arrive later in 2017, but in regards to the iPhone's wireless charging it's believed that Apple is again looking in-house to craft an inductive charger for the iPhone as it did for the Apple Watch, rather than using a truly wireless solution.