Hands-On With Apple's New 'Clips' Video App
Apple today released "Clips," a new app that's designed to make it easy to create short videos that can be easily shared via Messages and social networking apps like Facebook, Instagram, and Twitter.
Clips, as the name suggests, lets you combine several video clips, images, and photos with voice-based titles, music, filters, and graphics to create enhanced videos that are up to an hour in length.
Clips isn't hard to use, but the interface does take a bit of time to get used to, so we went hands-on with the app to show MacRumors readers just how it works.
When you open up Clips, you can choose to record video using the front or rear facing cameras, take a photo (with either camera) or choose a photo or video from your library. Once you've decided what you want to do, there are several ways to edit and enhance your content.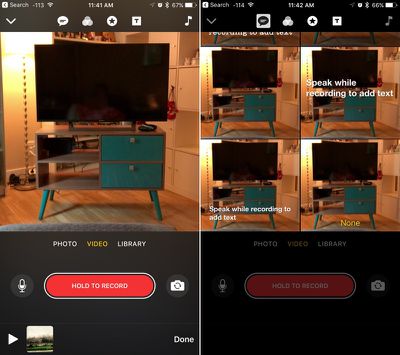 The speech bubble at the top allows you to record your voice, which is transcribed into titles that overlay a photo or a video. Next to that, there's a filter button that changes the look of your video with one of eight filters, and the third button at the top of the app, which looks like a star, is for inserting images.


There are several caption images like "Wow!" and "Nice!" plus time/date/and location graphic options. You'll also see your frequently used emoji. Adding music can be done with the music icon on the far right of the app, and there are many built-in background music options in a variety of genres, or you can use your own music. You can choose to record voiceovers and use the original sound in a pre-recorded video, or turn it off entirely.


You'll want to choose all of your enhancement options before you start making any kind of recording, because they're applied in realtime. If you're recording, hold down the red button to capture video, and if you're using a photo, you'll hold down the same button to add photo frames to the clip. The length of time the button is held determines how long the photo is featured in your overall Clip timeline, which is at the bottom of the app.
Multiple photos can be combined into a slideshow, a single video can be enhanced, multiple videos can be combined, or photos and videos can be combined. Apple's even included customizable transition screens that can be added to your timeline. Each element in the timeline can be customized differently with all of the tools in Clips.


When a Clip is finished, it can be saved to your Photos app or uploaded to social networks like Facebook and Instagram. There are also quick options for sending a Clip to a friend in the Messages app, with all of your favorite people listed front and center.