AppleCare+ Can Now be Purchased Up to One Year After Buying an iPhone
A customer that purchases a new iPhone now has up to one year to purchase AppleCare+ for the device, compared to 60 days previously, according to multiple people familiar with the matter. Apple has yet to update the fine print on its website, but MacRumors confirmed the extension with a senior AppleCare advisor.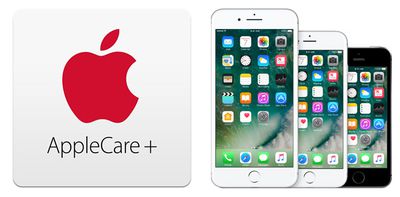 The change means that AppleCare+ can now be added to an iPhone as long as the device remains within its standard one-year limited warranty period. This brings AppleCare+ for iPhone in line with AppleCare for Mac and Apple TV, which can also be purchased up to one year after those devices are purchased.
The senior advisor said the extension only applies to the iPhone, and it is retroactive, meaning iPhones sold within the past year qualify for AppleCare+ now. Multiple sources insist that the one-year AppleCare+ purchase window applies to the iPad, iPod touch, and Apple Watch as well, but we cannot confirm this info yet.
Apple's eligibility tool does appear to reflect the change for iPhones in the United States, but not in the United Kingdom, Canada, Hong Kong, or elsewhere, so it is possible the longer purchase window will be U.S. only. "Eligible for AppleCare+" did not appear for an iPad or Apple Watch in any country based on our check.

iPhone 7 Plus purchased on September 21, 2016 eligible for AppleCare+
AppleCare+ costs
$129 for iPhone 6s and newer
and
$99 for iPhone SE
. The plan extends an iPhone's warranty coverage to two years from the original purchase date of the device, and adds up to two incidents of accidental damage coverage, each subject to a service fee of $29 for screen damage, or $99 for any other damage.
AppleCare+ for iPhone also provides 24/7 priority access to AppleCare advisors via chat or phone for up to two years after the device's original purchase date. Without the plan, iPhone owners are covered by a limited one-year warranty and 90 days of complimentary telephone support.
AppleCare+ for iPhone also covers EarPods, Lightning to USB cables, and batteries that retain less than 80 percent of their original capacity.
In order to purchase AppleCare+ after the fact, separately from the iPhone, Apple must physically inspect the device to ensure there is no existing damage. Proof of purchase, such as a receipt, is also required. If purchased online, Apple requires customers to verify their serial number and run a remote diagnostic test.
Update: Apple appears to have reverted back to a 60-day purchase window for AppleCare+ for iPhone, as confirmed with a support representative.