Apple Adds 2016 MacBook Pro Without Touch Bar to Refurbished Store [Updated]
Apple recently updated its online store for refurbished products to add the 13-inch 2016 MacBook Pro without a Touch Bar, which was originally released in October of 2016.
There are a limited number of models available for purchase with various processor, storage, RAM configurations. Prices are discounted by up to $390, with Apple offering 12 to 16 percent off depending on a machine's configuration.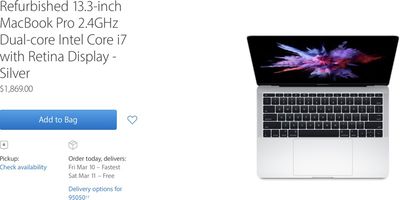 Only higher-end models with upgraded processors, RAM, and storage are available at the current time, but earlier today, at least one lower-end machine was available for purchase. Apple's refurbished stock fluctuates often, so if you're hoping to get a specific configuration, it's best to keep a close eye on the refurbished store.


13 and 15-inch 2016 MacBook Pro models with Touch Bar are not currently available from Apple's refurbished site, but could be added soon based on the availability of the non-Touch Bar model.
All of Apple's refurbished products go through a rigorous refurbishment process before being offered for sale, which includes inspection, repairs, cleaning, and repackaging. Refurbished Macs come with a one-year warranty that can be extended with an AppleCare purchase. For more tips on purchasing a refurbished product, make sure to check out our dedicated guide.
Update 3/20: Apple's refurbished store is also now offering 2016 15-inch MacBook Pro models for a 15 percent discount.
(Thanks, Nick!)