Apple Shares 'Home' App Ad on Refreshed 'Home' Webpage
Apple tonight debuted an ad for its Home app on the Home app webpage on its site, showing off what users can with the HomeKit ecosystem. The ad is not yet on Apple's YouTube page, and is only available on Apple's website.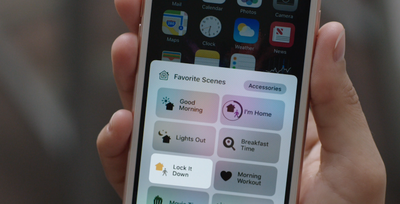 The ad depicts a woman who uses the Home app to get through the day. When she wakes up, she tells Siri good morning, prompting Siri to tell the woman that her home is ready for the day, turning on the lights and opening the window shades. She then opens the Home app and clicks on the "Breakfast Time" scene, which turns on her coffee maker via an iHome SmartPlug and adjusts the temperature via a Honeywell smart thermostat.
Once she's ready for the day, she leaves home and clicks the "Lock Up" scene in the Home app, which turns everything in her house off and locks the door. Hours later, she returns home and clicks the "I'm Home" scene, which turns everything back on and unlocks the door. She heads to her Apple TV and uses the Siri Remote to declare that it's "movie time," which prompts the Home app to dim the lights and close the window shades.
Finally, she clicks the "Lights Out" scene, which turns everything off other than a small lamp next to her bed so that she can read a book on her iPad. Eventually, she clicks the "Good Night" scene to turn off the lamp and go to sleep.
In addition to the new ad, Apple has refreshed its Home webpage with new verbiage. The new copy appears to be less flowery and more direct and focused on app functionality. For instance, the accessories section of the webpage is now titled "One app for all your home accessories" rather than "So many accessories. One easy way to control them." Some lines in the descriptions have also been removed.
The ad can be viewed on Apple's website.