Apple is the fifth most reputable major company active in the U.S. according to an annual poll that gauges public perception of 100 consumer brands (via The Korea Herald).
The Reputation Quotient Ratings from the 2017 Harris Poll are based on an online survey completed by over 30,000 adults in the U.S. The survey analyzes brand reputation across six gauges: social responsibility, vision and leadership, financial performance, products and services, workplace environment, and emotional appeal.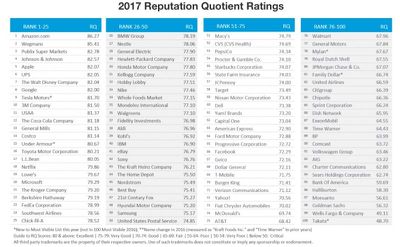 The Reputation Quotient Ratings saw Apple fall three places from the previous year, losing ground to Wegmans, Publix Super Markets, and Johnson & Johnson. Amazon meanwhile maintained its 2016 position at the top of the table, but the effects of the exploding Note7 phone debacle saw Samsung slump to 49th after last year ranking at seventh.
Other companies in the top ten include Google, which slipped from fifth in 2016 to eighth, and Tesla Motors, which was not included in last year's rankings. Netflix and Microsoft both ranked in the top 20 (18th and 20th, respectively), with Facebook sitting at 66th.
According to Harris Polls, the biggest risks to a company's reputation are illegal actions by corporate leaders and lies about products or services. The poll was carried out between November 28 and December 16 of last year, so just before Consumer Reports denied Apple's new MacBook Pro line-up a buyer recommendation, based on perceived battery life issues. Consumer Reports later revisited the issues with Apple's input, and ultimately decided to award the laptops a recommendation in January.
Samsung meanwhile will be eager to resuscitate its brand in 2017 after some of its Galaxy Note7 phones caught fire, leading to the discontinuation of the model in October. However, the company had a setback last week when Samsung chief Lee Jae-yong was arrested over his alleged role in an influence-peddling scandal that has led to the South Korean president's impeachment.