Starting today, Microsoft Office users who own one of Apple's new 2016 MacBook Pro models can update their Word, Excel, and PowerPoint software to gain new Touch Bar integrations.
Touch Bar support for Microsoft Office was first announced at Apple's October keynote event where the updated MacBook Pro with Touch Bar debuted. At that time, Microsoft outlined the Touch Bar's capabilities, highlighting unique capabilities for Word, Excel, PowerPoint, and Outlook.
In Microsoft Word, the Touch Bar can be used with Word Focus Mode, which hides all on-screen ribbons and commands to put the focus on your work. The Touch Bar puts "the most relevant Word features" at a user's fingertips, allowing for quick style changes.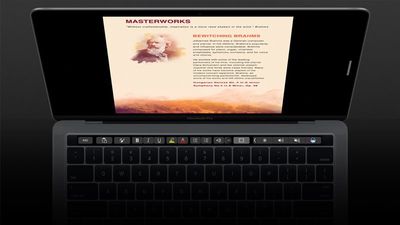 In PowerPoint, the Touch Bar makes it easier to manipulate graphic elements. A Reorder Objects button creates a graphical map of all the layers, so users can quickly find an object and move its position. There are also special controls that are available in Slideshow View.


With Excel, the Touch Bar displays the most recently used functions when the equals sign is typed into a cell, so it's quicker to do things like sum a range of numbers. The Touch Bar also provides access to borders, cell colors, and recommended charts.


Microsoft has also added new capabilities to the Touch Bar during its testing period. The Touch Bar can also be used to insert comments, photos, and hyperlinks into Word, it includes view-specific controls in PowerPoint, and there's an object rotation slider for Word, Excel, and PowerPoint.
Last week, Microsoft previewed Touch Bar support, providing it to its "Office Insider" beta testers, but now the service is ready to roll out to all Office users.
Touch Bar support is currently only available for Word, Excel, and PowerPoint, but Microsoft also plans expand it to Outlook and Skype for Business in the near future.