Apple's Siri Promotes The LEGO Batman Movie When You Say 'Hey Computer'
The LEGO Batman Movie, released last Friday, features the voice of Apple's personal assistant Siri as Batman's personal computer. Batman's computer works in much the same way as Siri, responding to his voice requests whenever he says "Hey 'puter."
As it turns out, there's a secret tie-in hidden in the iPhone, too. Whenever you say "Hey 'puter" (or "Hey Computer") to Siri, she responds to you as if you're LEGO Batman.
"I am at your service, Lego Batman sir," and "Welcome home, sir. I have your rom coms queued up, sorted by decade," are just two of the multiple humorous phrases Siri shares whenever the personal assistant hears "Hey 'puter."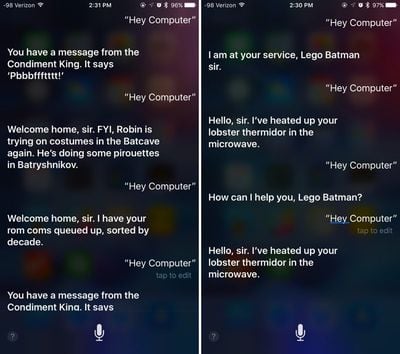 Apple updates Siri on a regular basis, and this isn't the first time the personal assistant has gained humorous responses ahead of an upcoming event, but it may be the first serious movie tie-in.
Siri was previously updated in August 2016 to offer funny responses to questions about Pokémon Go, and again in September to respond to questions ahead of the iPhone 7's debut.
In addition to the Siri easter egg, there's also a free iOS app that accompanies The LEGO Batman Movie, which was released back in January.