T-Mobile ONE Unlimited Plan Gains HD Video and 10GB High-Speed Hotspot Data to One-Up Verizon
Over the weekend, Verizon announced a new unlimited data plan for $80 per month, designed to rival T-Mobile's ONE data plan that provides unlimited data for $70 per month.
To set itself apart from T-Mobile, Verizon promised 10GB of tethering data per month and full HD video streaming, two offers that have spurred T-Mobile to offer matching benefits.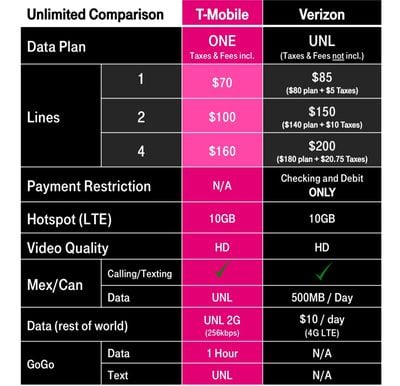 As of this afternoon, T-Mobile CEO John Legere has announced that T-Mobile ONE subscribers will be able to stream HD video and will get 10GB of high-speed data at no extra charge. Legere has also announced a promotion that will see T-Mobile offering customers two lines with unlimited data for $100 per month, a $20 discount off of the standard $120 price point and $40 cheaper than two lines on Verizon's new unlimited plan.
6/ Starting Fri, #TMobileONE price includes HD video & 10GB high-speed 📱hotspot data –all at no extra charge. AND taxes & fees are included! — John Legere (@JohnLegere) February 13, 2017
Prior to Verizon's announcement, the T-Mobile ONE plan offered unlimited hotspot data that was limited to 2G speeds, with an option to pay for 5GB of data for an additional $15 per month.
As for video, the ONE plan originally limited subscribers to 480p "optimized" video provided for free through its Binge On program, but users will now be able to stream Binge On content in a higher resolution by default. T-Mobile has not given specific details on the new resolution that'll be available to ONE subscribers, but "HD" likely equates to 720p.
The addition of 10GB LTE tethering data and better quality video streaming is a huge win for T-Mobile customers, and the new additions once again make T-Mobile the more attractive carrier, with the company offering better features for consumers at a lower price.
With Verizon now offering an unlimited data plan, all four of the major carriers in the United States have unlimited data offerings, a major change from a few years ago when AT&T and Verizon eliminated unlimited data. T-Mobile's "Un-carrier" initiatives over the past few years have sparked some major changes to the mobile wireless market, resulting in significant competition that's brought positive changes for subscribers.
For a single person, T-Mobile's ONE plan is priced at $70 per month, while Verizon charges $65 plus a $20 device fee. Sprint charges $55 per month for a single subscriber, and AT&T's unlimited plan is only available to AT&T U-verse or DirecTV subscribers.
The new T-Mobile ONE benefits will be available to T-Mobile subscribers starting on Friday, February 17.