Tim Cook Visits 'Kitchen Stories' Developers and Furniture Maker Dula on German Trip
Following a trip to France, Tim Cook today toured Germany, where he made a number of stops to visit furniture maker Dula, the developers behind the Kitchen Stories app, and the team at Refinery29.
Cook has been documenting his trip on Twitter, sharing a number of photos at each site. Before leaving France, he made one last stop to visit the Marché Saint-Germain Apple Store, where he met with staff, iOS developers, and Apple customers. It was his second visit to an Apple Store following a stop in Marseille earlier this week.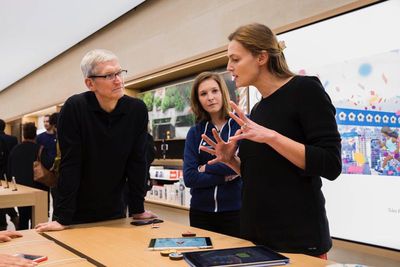 He then headed to Vreden, Germany, where he met with Dula. Dula is a furniture manufacturer that works with Apple to create some of the furniture and hardware used in Apple's retail stores.
Cook took a tour of the factory and then headed to Berlin to meet with the developers behind the Kitchen Stories app. Created by two women in 2014, Kitchen Stories is a recipe app that walks users through each step using photos and videos.
During his time at Kitchen Stories, Cook also met with Refinery29 for an exclusive interview where he talked about women in the workplace, diversity, wage gaps, and more.


Cook was specifically questioned about the German start up scene, where just 13.9 percent of lead roles are held by women. According to Cook, improving that rate hinges on a work environment that "encourages and motivates women to participate." He went on to say that it's a problem that needs to be tackled early in life, in schools, with young women encouraged to enter the STEM field.
Pay equality was also a subject, and Cook explained that Apple pays all employees equally regardless of gender, something all companies should do.
You know, we're probably an outsider, but we pay well and we pay 100% the same. We make a long-term evaluation every year, in order to maintain that. And if we only notice once that someone earns only 99.8% of the salary of another, then we do everything we can to make up for it. I think every company should try to do it. It's just not right and not fair that women still earn so much less than men.
Cook's full comments can be read over at Refinery29, but the original interview is in German and will need to be translated.
Following his short trip to Germany, Cook will head to Scotland on Wednesday where he will accept an honorary degree from the University of Glasgow.
Note: Due to the political nature of the discussion regarding this topic, the discussion thread is located in our Politics, Religion, Social Issues forum. All forum members and site visitors are welcome to read and follow the thread, but posting is limited to forum members with at least 100 posts.