BeatsX May Launch as Early as Today Per Apple's Website [Updated x3]
The much-anticipated launch of BeatsX could be occurring soon, according to some behind-the-scenes movement happening on Apple.com where the earphones are now listed as "Available Today" in two stores in Manhattan: West 14th Street and the Upper East Side. At the time of writing, customers can't order or add BeatsX to their bag, however, so it's still unclear when exactly the earphones will be up for purchase.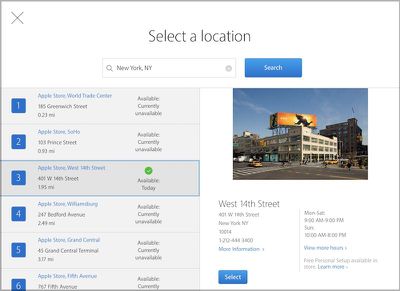 Two stores in New York list BeatsX "Available Today" for Personal Pickup
Adding to the evidence of an imminent launch is
Best Buy
, which has quietly updated its website with a "Check Stores" button, as noted by one
Redditor
. The button still presents users with an out of stock warning, but the backend movement to prepare for the arrival of the BeatsX suggests a launch soon, and Apple's website has included a "Coming February" release date
since December
.
According to French reseller Fnac, BeatsX will be available to purchase February 10, and Fry's Electronics has the earphones listed with a February 20 launch date. Looking at reseller websites typically isn't the most reliable source of predicting accessory launches -- Fnac said the AirPods would launch November 30, while Fry's previously said the BeatsX would arrive January 23.
Update: New Apple retail stores across the east coast have gained BeatsX stock, and some have quickly gone back to listing the earphones as "Currently Unavailable." It's still unclear exactly what's going on or when BeatsX will launch online, but iStockNow has a BeatsX activity tracker for those interested in following new developments.
Update 2: iStockNow appears to having trouble tracking BeatsX availability at the moment, but a handful of stores along the U.S. East Coast continue to show availability on Apple's site. Online orders, including Personal Pickup at stores where there is availability, remain unavailable.
Update 3: Some users are reporting Apple has removed the availability checker from its site, simply stating "Apple Store Pickup is currently unavailable." iStockNow tells us they are continuing to check Apple's site but have added a filter to not trigger alerts unless the headphones are also available to order for delivery or pickup.