Lawsuit Alleges Apple Broke FaceTime on iOS 6 to Force iOS 7 Upgrades, Save Money
Christina Grace of California has filed a new class-action lawsuit that alleges Apple broke FaceTime in iOS 6 to force users to upgrade to iOS 7, reports AppleInsider. According to the lawsuit, Apple forced users to upgrade so it could avoid payments on a data deal with Akamai.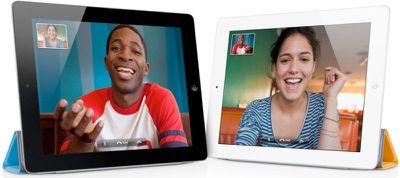 The class action found its genesis in internal Apple documents and emails disclosed in the VirnetX patent infringement lawsuit, which eventually ended in Apple paying $302 million after a retrial. Apple used two connection methods when launching FaceTime in 2010: a peer-to-peer method that created a direct connection between two iPhones and a relay method that used data servers from Akamai.
When Apple's peer-to-peer FaceTime technology was found to infringe on VirnetX's patents in 2012, Apple began to shift toward Akamai's servers to handle iPhone-to-iPhone connections. A year later, Apple was paying $50 million in fees to Akamai, according to testimony from the VirnetX trial. The class-action lawsuit, pointing to an internal email titled "Ways to Reduce Relay Usage," alleges that the growing fees were beginning to bother Apple executives.
Apple eventually solved the problem by creating new peer-to-peer technology that would debut in iOS 7. The class-action lawsuit, however, alleges that Apple created a fake bug that caused a digital certificate to prematurely expire on April 16, 2014, breaking FaceTime on iOS 6. Breaking FaceTime on iOS 6, the lawsuit claims, would allow Apple to save money on users who did not upgrade to iOS 7.
At the time, Apple recognized the bug, publishing a support document saying that users who were having FaceTime connectivity problems after April 16, 2014 could update to the latest software to fix the issue. The same support document eventually removed the date "April 16, 2014," according to AppleInsider.
The lawsuit later points to an internal Apple email chain in which an engineering manager mentions that they were looking at the Akamai contract for the upcoming year and understood that Apple "did something" to reduce usage of Akamai's services. Another engineer responded by pointing out iOS 6 leaned a lot on Akamai's services and that Apple "broke iOS 6" and the only way to fix FaceTime was to upgrade to iOS 7.
Apple's developer page pegged iOS 7 adoption at 87 percent on April 7, 2014, nearly 10 days before Apple allegedly broke iOS 6. The lawsuit claims that forcing iPhone 4s and 4 users to upgrade to iOS 7 was harmful to them because the software would allegedly crash more and run more slowly.
The lawsuit is seeking undisclosed damages and to prove Apple violated California's unfair competition law.