Multiple Simply Mac Stores Shutting Down Across the U.S.
Simply Mac, a well-known Apple Authorized Reseller and Service Provider owned by GameStop, is shutting down a number of its brick and mortar stores across the United States.
Locations in North Carolina, North Dakota, Montana, Texas, Illinois, Indiana, Utah, Idaho, Maryland, South Dakota, and more, are closing this week.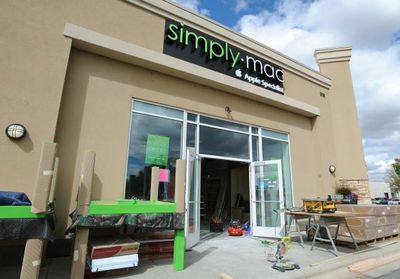 Image via the Billings Gazette
Notices at some of the locations have suggested Simply Mac is being shut down because Apple is ending its agreement with the retail chain, and several
local newspapers
are reporting the same news, but
on Twitter
, Simply Mac says that is not true.
A notice sent out by the West Acres Mall in Fargo, North Dakota:
We wanted to reach out to you with news of another change at West Acres. As of today, Simply Mac has closed. Simply Mac opened at West Acres in August 2014 and we've enjoyed having them as part of the West Acres family.

The closure is due to the Apple Corporation ending its national agreement with Simply Mac to sell them Apple product, making it impossible for them to continue. They will be onsite for a few days to help with customers who have repaired items to pick up.
A GameStop spokesperson who spoke to the Midland-Reporter Telegram in Texas and the Billings Gazette in Montana said the closure of the Simply Mac store in that location was done as part of a business transformation plan that involves closing non-productive store locations.
"As GameStop announced in its holiday sales release, the company continues to focus on the execution of our business transformation plan, which includes growing our non-gaming businesses and right-sizing our global store portfolio across all our retail brands. This involves evaluating and closing non-productive locations. The closure of this Simply Mac store is part of that strategy."
It is not clear why there is mixed information being shared about the store closures, but it appears that only a select number of stores are being shuttered at this time. We've reached out to GameStop for a full list of the locations that are disappearing.
The closure of several Simply Mac stores comes as GameStop faces flagging sales. Earlier this month, GameStop announced that its holiday sales fell 16.4 percent compared to 2015.