Rumored March 2017 iPad Update in Question Due to Poor Chip Yield Rates
Sources in Apple's supply chain are suggesting that "lower-than-expected" yield rates for the 10-nanometer manufacturing process could "disrupt the schedule" of next year's iPad launch, previously rumored to be coming in March 2017 (via DigiTimes). Specifically, Taiwan Semiconductor Manufacturing Company and Samsung are said to be facing the biggest issues with their 10nm processes, and TSMC's in turn has the potential to delay production for the A10X chips in the next-generation of iPads.
Apple typically sticks to the same manufacturing process for "X" labeled chips, and the current-generation A10 chip was crafted using the 16-nanometer process. The move to a more efficient 10nm chip in a new iPad line, while still unconfirmed, would go towards making the tablet more power efficient and able to fuel a speedier operating system experience for users.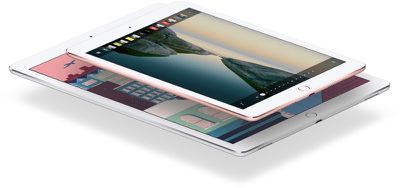 TSMC has reportedly obtained 10nm chip orders from Apple, HiSilicon and MediaTek, with volume production set to kick off in the first quarter of 2017. Nevertheless, yield rates for TSMC's 10nm process technology are not what the foundry expected, the sources said.

TSMC is scheduled to start making Apple's A10X chips for the next-generation iPad series slated for launch in March 2017. Unsatisfactory yields for the foundry's 10nm process could disrupt the schedule, the sources indicated.
Recent rumors suggest that the 2017 line of iPads will include three models: refreshed 9.7-inch and 12.9-inch versions, along with an all-new bezel-free 10.9-inch model. The new bezel-free model is said to be a thicker iPad at 7.5mm (the current 9.7-inch iPad Pro measures 6.1mm) and not include a Home Button. The specific size of the new iPad has varied in reports, including rumors that it will be 10.1 inches, 10.5 inches, and -- most recently -- 10.9 inches.
In the same report, DigiTimes mentioned that TSMC is also gearing up to produce A11 chips in the upcoming "iPhone 8." According to supply chain sources, volume production for those chips is expected to begin in Q2 2017, which aligns with Apple's annual September iPhone launch schedule.