Reddit users have recently discovered that YouTube refuses to stream newly uploaded 4K video in its native resolution if the website is accessed through Safari web browser.
The issue was first raised almost a month ago by Reddit user GezimS, who wondered why the option to view 4K videos in 2160p was no longer available.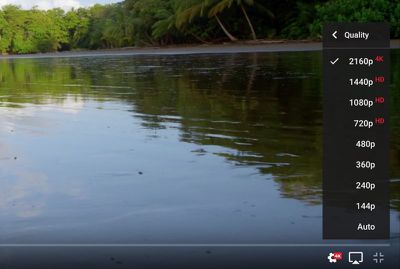 Other users soon chimed in to confirm the anomaly, noting that it only seemed to occur in recently uploaded 4K video and that accessing the same content in Chrome or Firefox still offered up the preferred 2160p resolution as a viewing option.
After some digging, user themcfly recently discovered that the issue is being caused by a change to the way YouTube encodes video and serves it through its website.
Specifically, YouTube appears to be storing video on its servers using either the more efficient VP9 codec or the older H.264 codec. Safari only supports the latter, which explains why recently uploaded 4K videos are only able to be viewed in up to 1440p.
Funnily enough, the same videos can be streamed by Safari in native 4K as long as they're embedded in another website, suggesting that the VP9 codec support requirement only applies to videos viewed directly on YouTube's website.
Until Apple updates Safari to support the VP9 codec, Mac users who want to access newer 4K video on YouTube in native 2160p resolution are advised to use a different browser.