Audi and Nvidia Working on Fully Autonomous Car for 2020 Rollout
Audi and Nvidia have announced they are working together to bring a fully self-driving car to the consumer market by the year 2020.
The announcement came on Wednesday at the Consumer Electronics Show in Las Vegas, Nevada, as the two companies outlined their vision for a fully autonomous vehicle. German automaker Audi hopes to be one of the first automakers to achieve the feat, and is banking on U.S. graphics chipmaker Nvidia's artificial intelligence car computing platform, which uses deep learning to negotiate complex real-road conditions.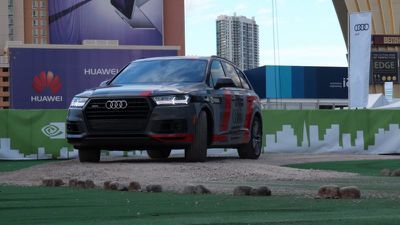 Audi's Q7 Piloted Driving Concept.
"Nvidia is pioneering the use of deep learning AI to revolutionize transportation," Nvidia CEO Jen-Hsun Huang said. "Audi's adoption of our Drive computing platform will accelerate the introduction of next-generation automated vehicles, moving us closer to a future of greater driving safety and new mobility services."
To offer a taste of the results of their collaboration, Audi has been demoing its Q7 Piloted Driving Concept, which is fitted with Nvidia's Drive PX 2 processor. The companies claim that after four days of "training", equipped vehicles are able to drive themselves over a complex road course, thanks to the PX 2 chip's ability to learn on the fly without recourse to pre-mapped routes.
Audi and Nvidia have been working together for almost a decade, but the announcement at this year's CES is an indication of just how far the collaboration has come. Originally the partnership was limited to using Nvidia's graphics processors in Audi's virtual cockpit and navigation systems, but ambitions have since grown, and Audi said it will begin expanding its testing of the highly automated, artificial intelligence-equipped vehicles on public roads in California and select states in 2018.
For Nvidia's part, the traditionally GPU-focused company has been working on autonomous vehicle systems for several years now and has rolled out development platforms and agreed partnerships with over 80 automakers and suppliers to realize its self-driving goals. In September the company introduced Xavier, a complete AI system on a chip for self-driving cars that's designed to meet international functional safety standards for in-car electronics.
Apple is thought to have refocused its car project recently. The company has shelved plans to build an electric car for now, and is instead working to build a self-driving software platform for use in vehicles made by established automakers. In December of last year, Apple confirmed its interest in the autonomous car market, in a letter to federal regulators urging them to ensure fair competition and equal rights for "new entrants" in the industry.